I meet Dad at the train station in Helsinki and caught a taxi back to the hotel. We had an early night because we had to get up 4 something something the next morning for a boat across the Gulf of Finland to Estonia. Good thing about Europe, the countries are so close, which seems like a silly thing to say, but they are a lot further away in Australia.
We weren't sure which pier we had to get the ferry from, but in the morning the person on the front desk told us which one it was, and it was the closest one so we decided to walk. Dad didn't want to walk too much with his ankle. We got to the port early and negotiated the ticket machines and turnstiles. We hadn't had breakfast yet, so got a couple of coffees from the bar that was already open (5 something something am). Two of the worst coffees ever made by a pod machine. I've ranted about pod machines before. They are terrible, and when they haven't been cleaned since they were installed, they're even worse.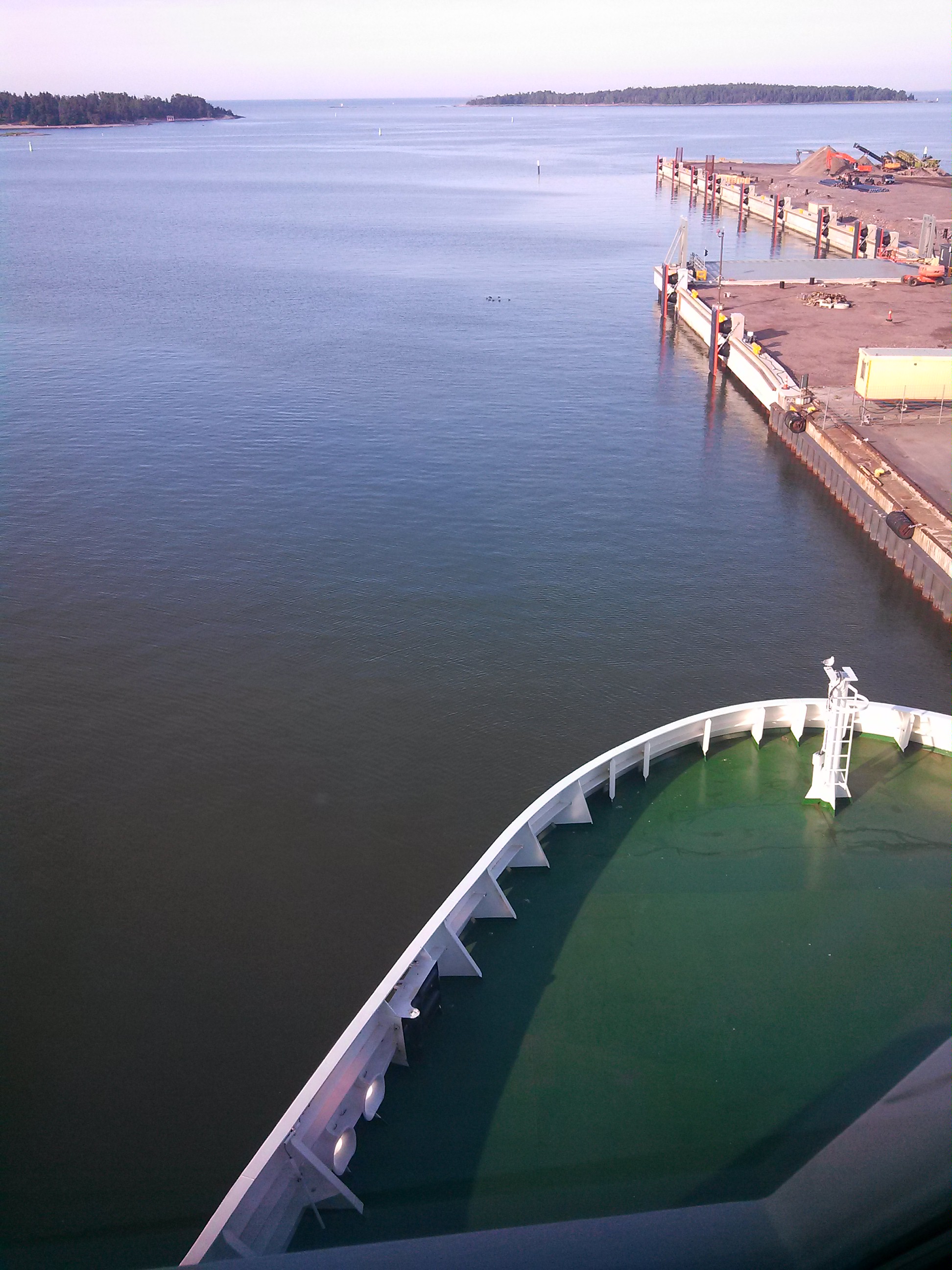 We set off down the gangway when the loudspeaker said something in Finnish, along with everyone else. Seems there were a lot of people taking the first ferry of the morning over to Tallinn. There were still people getting off the ferry from its trip to Helsinki. We had paid slightly extra to get a 'business seat' in the lounge – definitely worth it. Much quieter than the rest, and quite comfortable. I tried to go back to sleep.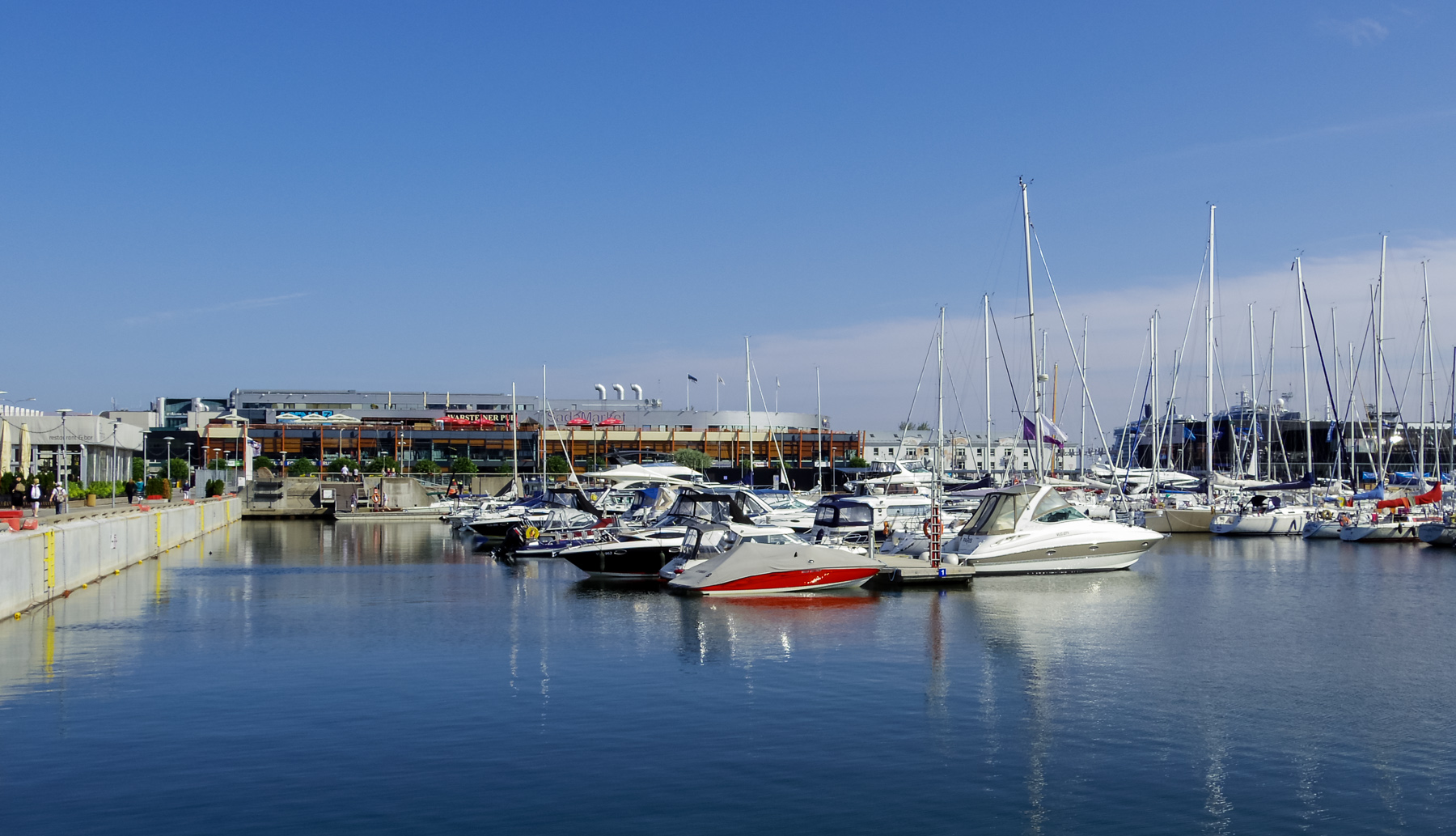 When we got off the boat we started walking towards the old city where we wanted to visit. After the marina we walked through the car park of a slightly dodgy looking gift store that stocked hats and drinks.  We spent most of the morning walking around the cobble stone streets, getting higher up the hill.
We found the old town hall and the town square surrounded by restaurants. We went into the town hall which included a museum of Estonian culture and a brief history of the town.
After that we continued up the hill. Still keeping in mind Dad didn't want to walk too far, and we were both carrying backpacks. We took a couple of wrong turns, but kept heading up hill following the crowds and eventually made it to the top where the Alexander Nevsky Cathedral is. There were large crowds waiting to get inside, and everyone had to funnel through the doors walking slowly. There were large signs asking for silence in a number of languages, including English. Not everyone read them, and a lot of tourists in the queue kept loudly asking what was inside, and why wasn't the line moving.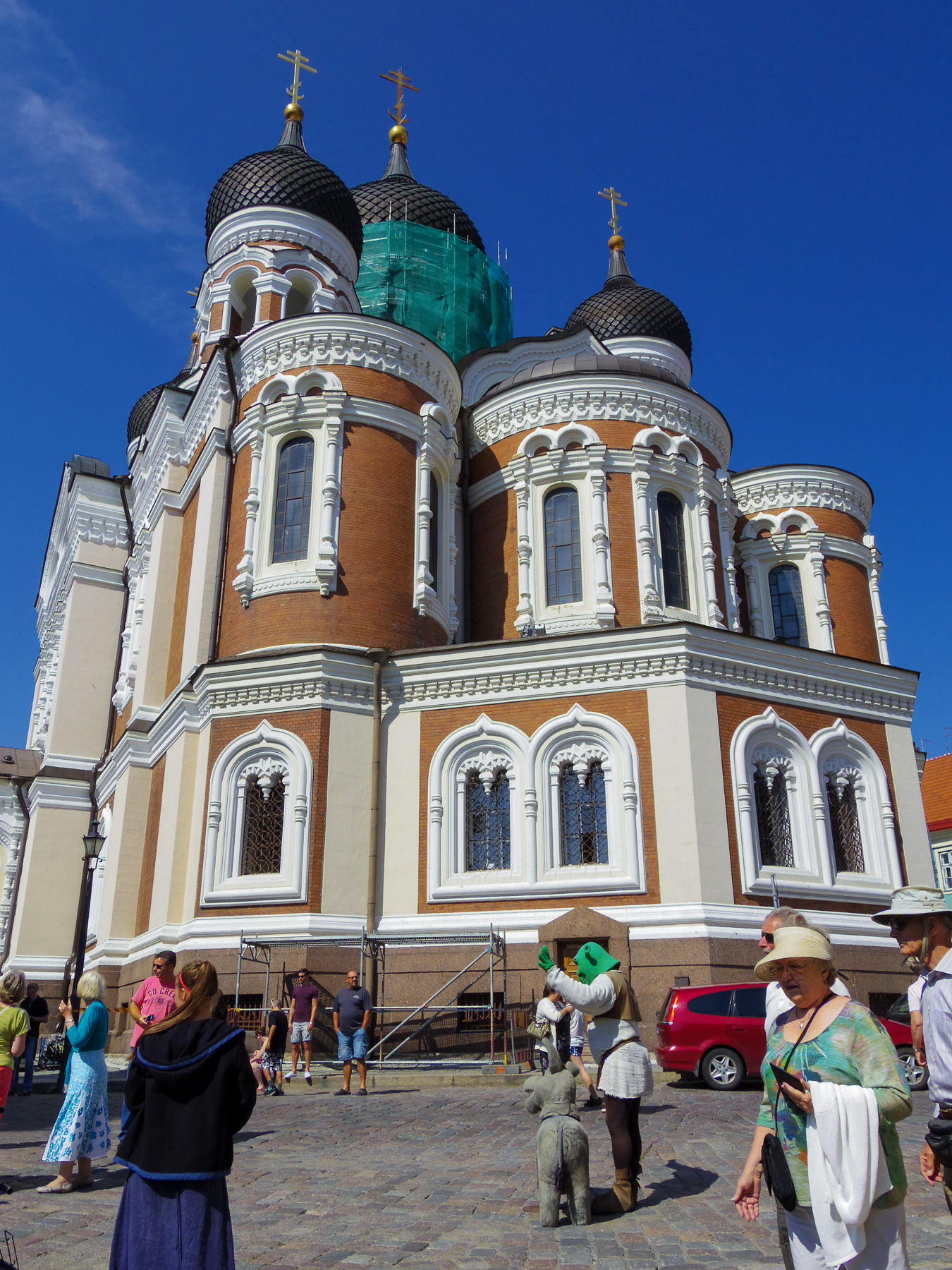 After filing through the church we set of again to look for some lunch. We got turned around a few times in the small streets, and conveniently ended up at a good spot for a photo down over the town, along with a few dozen others, and some pigeons. Why do people insist on taking photos with an iPad?
We eventually found our way back down to the bottom and had some lunch. We both needed a break as we had been on our feet all morning. We checked our bearings on our phones and tablets before trying to make out way back towards the town square to look for another old church Dad wanted to see, 1300's old, so quite old. We managed to time this well with some local performers singing some old folk songs. We stayed for a few before sneaking out while a tour group poured in.
It was now mid-afternoon, I checked my pedometer and we had done over 20,000 steps. Not bad considering we didn't want to walk too far today. We walked back to the harbour to catch the ferry back to Helsinki, and made it to the terminal just in time as it started bucketing down. We found a cafe for a drink that had free wifi and tried to call home on Skype. Estonia is incredibly connected. The free wifi at the ferry terminal had a better Internet connection that a lot of Australia, and we were able to make video calls without any fuss at all.
| | |
| --- | --- |
| | |
If the ferry terminal was anything to go by the single biggest export of Estonia was drinks. Not just alcohol, energy drinks, and soft drinks. A lot of the shops sold cheap trolleys for easy exporting. On the boat I was able to catch most of stage of the Tour de France. The TV was muted, and occasionally cut out, but another passenger had it streaming on their phone. I managed to get onto the SBS app on my phone via a VPN back to my house to look like I was in Australia to catch the occasional commentary in English. Once we arrived back in Helsinki we caught a tram 2 stops back to the hotel, by the end of the day we'd walked over 15km,  at least we didn't have an early start the next day.