It's been a long time since I did one of these updates. I managed to get a couple of Europe posts done from (over) 12 months ago. I have a draft for Stockholm on the way, but struggling with making it less boring than they usually are.
Getting around Canberra, without a car
Back in January my car was parked at work when a massive hail storm blew through. It was intense, there was a lot of damage in Belconnen and the Parliamentary Triangle. All told I got off fairly lightly. My house is generally OK, there are a few tiles that lost a corner or two I should get looked at, and my roller shutters got pummelled, but everything else is fine.
My car had quite a lot of damage. All the tail lights were broken / cracked (globes were all OK), and every panel had multiple, deep dints. It was generally drivable (no window damage), but the tail lights meant after I got it home I wasn't comfortable driving it daily.
It took a couple of weeks for the insurance company to sort it out, but they eventually took it away on a truck, never to be seen again. A couple of weeks later they told me it was to be written off, cost more to repair than the value to be paid out. This was probably the bets outcome for me. The payout covers the residual on my lease and I will be able to get a new car, when it is released. But it does mean I have been on the buses for 6 or so weeks, and will be for another 6 or so.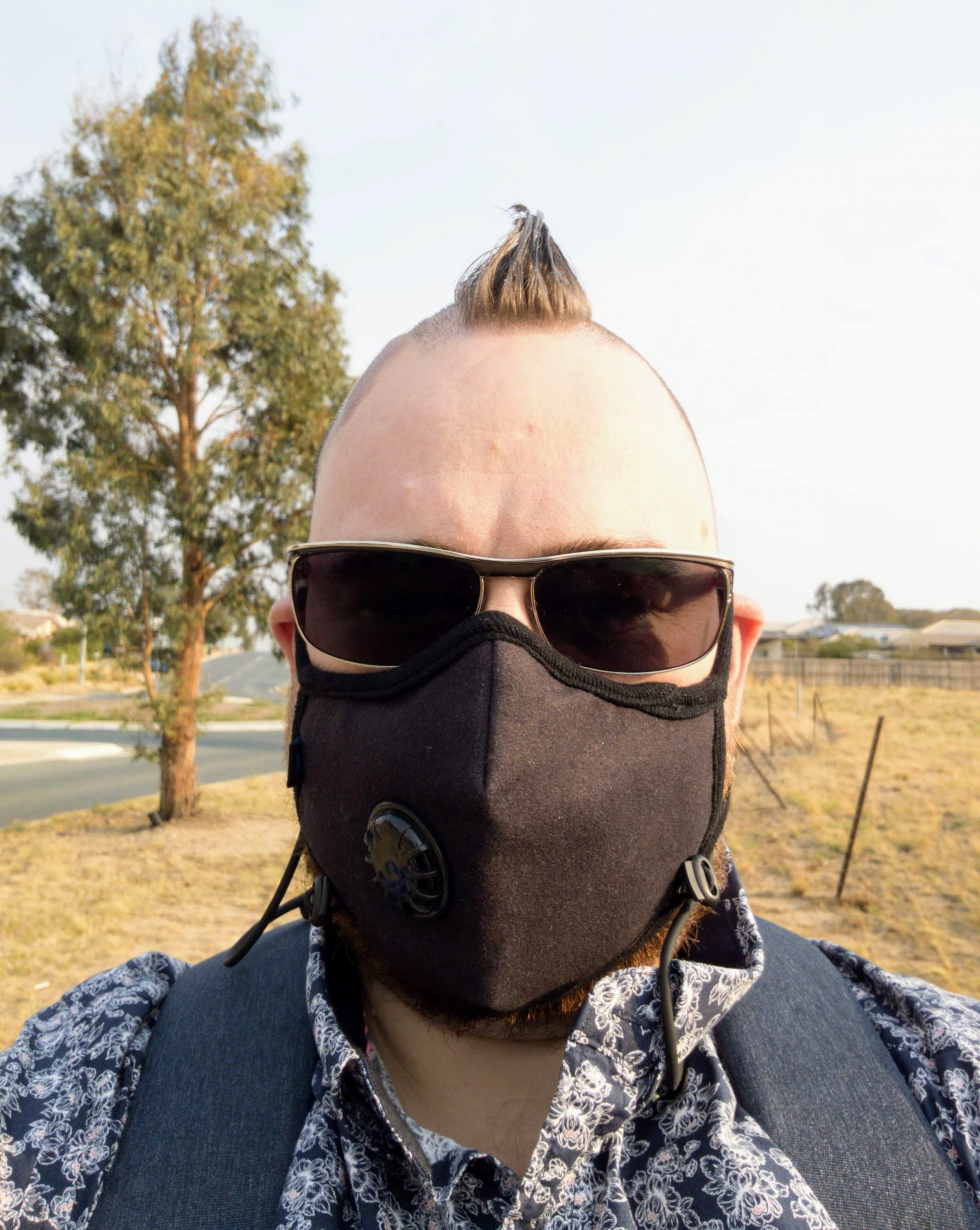 I've been able to manage quite well on the bus, there is only me, I don't need to worry about kid drop off. I get most of my meals delivered. But there are some down sides.
I have't been able to get to the gym before work in the morning, it would mean leaving VERY early, being slightly late for work, and getting home quite tired. Going to the gym on the weekend is OK, but with a bus only every 2 hours it does mean starting later, and a longer 20min walk from the not-local bus stop getting home. It now takes a full morning for a 50min session.
On Wednesdays I've been attending Japanese classes at ANU after work, in preparation for a trip in October. I've been getting a bus from Belconnen to ANU, and then a bus back home – a bus back home that stops at the not-local bus stop, another 20min walk from my house. It's been OK, but I leave the house well before 8 in the morning and don't get back until well after 9.
The other issue is trying to get to things that aren't on the bus route near your house. I have an appointment on Monday. It would be a 10min drive, 12 with traffic. But on the bus it is well over an hour, and closer to 1.5hrs. It is at least 2 buses, or three with less waiting.
Luckily I've been able to borrow Will's car on a couple of weekends. I don't think I'd have been able to make it down to the car yards in Woden for test drives without it.
What have I been watching?
There was a slow down in new TV over the summer, but things have really ramped up now, I'm having a hard time keeping up with all of it.
HBO
Avenue 5 – new comedy from Armando Iannucci with Hugh Laurie . It's funny, not side splitting laugh out loud funny as VEEP or The Thick of It, but it is funny. There is a character who is an absolute Karen called Karen. One of the highlights has to be Zach Woods (from Silicon Valley) playing the head of customer relations.
John Oliver is back and reminding me everything is bad, but also making me laugh.
The New Pope – the spiritual successor to The Young Pope. It is bizarre – even more so than TYP. There is this strange story arc around Esther that is just a drug-induced fever dream. There is also an interesting theme around the disabled, Voiello's child, Lindegard's child.
But then all is made up for by John Malkovich being amazing. The other acting being amazing. The sets and cinematography being beautiful. The opening titles have also cemented Good Time Girl, and not just because of the nuns dancing in the titles the song is just damn catchy.
McMillions – Never underestimate the ability for an American to talk about themselves when someone puts a camera in front of them. Never. A documentary regarding the rigging of the McDonald's Monopoly game – before everything was tied back to the internet, though the methods used to rig the game would probably still work… 🤔
Silicon Valley – after a rough start, the last few seasons of Silicon Valley were actually really good. The last season was just like the last few where you'd think the team was due for a win, only to have it cruelly pulled at the last moment. This got a little tiresome, what is the next bigger disaster now? As the final season ramped up I really liked where it was going and the implications. A self-improving AI runs amok and while trying to improve a solution given to it and manages to break all known encryption capabilities. Representing such an enormous risk to global security and the Internet as a whole they are forced to shut it all down and claim that they failed in their ultimate quest.
Streaming – Amazon Prime
Star Trek: Picard
OK, a new Start Trek. This is exciting. It has The Borg. It has the Romulans. It has Patrick Stewart being Patrick Stewart, and things are just better with Patrick Stewart. It also has Jonathan Frakes directing a bunch. In short it is great, and I am onboard for the story. It took it's time to get going.
The open three episodes was a 2-part TV premiere stretched into three parts and delayed a week apart. CBS control the release as it is streaming only, and even if they wanted to keep it as a weekly show they should have just release the first three episodes together.
I like the new characters. Elnor, Space Legolas – a barista from Melbourne with pointy ears and a very sharp sword. Soji, who's origins are the corner stone of the plot and a possible throwback to one of my all time favourite TNG episodes (also directed by Jonathan Frakes). Cabrera, who has just a tinge of Malcolm Reynolds about him.
I have also really enjoyed the returning characters from previous incarnations of Star Trek – even if only for a single scene.
The Marvelous Mrs. Maisel
This was a bit of a slow burn. I tend to watch one episode, then get distracted by something else, then go back to it. The premise is a house wife in the 1950's trying to become a stand up comedian. It is slightly more nuanced than that, but that about sums it up. It is enjoyable, and an antidote to action adventure.
Streaming – Netflix
Star Trek: Voyager – I am nearly done. Maybe 10 episode or something left, and then I can get onto Enterprise.
Rick and Morty – I am still rewatching all of them before starting the new 4th season.
Drive to Survive, Season 2 – A documentary that covers the last season of Formula 1 racing. I've only just started, but it is interesting and I am enjoying the in-depth look at some of the smaller teams I generally know nothing about.
Altered Carbon, Season 2 – When the recap rolled I thought it was a different show, but it turns out the plot of the first season has nothing to do with the plot of the second season. I think that is fine, all things considered, and I like Flacon from Marvel as the new protagonist.
She-Ra – don't underestimate this. It is clever. The plots are your standard action adventure plots but instead of space marines the heroes go by the term princess. I'm only up to the second season, but I enjoy it when I don't want something too intense.
Sex Education, Season 2 – The characters are still diverse and interesting and the story is good. I enjoyed the second season, even if I didn't love the ending. Why can't niece people and good characters just have a win once in a while. (Because then there wouldn't be a third season, I guess.)
Streaming – Stan
Better Call Saul is back, and wow. I love this show. Better than Breaking Bad, it is in my top 4. The last season ended with a moment, a real moment, as we saw Jimmy really take a dive into being Saul. It had been building for so long, and then there it was. It was delivered and I think everyone was about as stunned as Kim was. But now they are unpacking the consequences of that in a a very detailed way and I am here for it.
The second episode had a brilliant sequence of a multi-day bender with the catch phrase "50% off!"
The only down side is this constant noring at the back of my head, where is Kim? Why wasn't Kim in Breaking Bad? WHAT HAPPENS TO KIM!
Everything's Gonna be OK – One of my favourite Australian shows is Josh Thomas' Please Like Me. It is unique, Australian, and looks at mental illness in a genuinely touching and beautiful way. I cried at the end.
I'll be honest, I don't like this as much, but it is still very good. I think I don't like the American influence as much. Josh's character is left to look after two younger sisters, one of whom is autistic after their father's untimely death.
What have I been listening to?
Despite my commute being significantly longer on the buses, I have been getting very behind in my podcast listening. Mainly because of Behind the Bastards – a history podcast that looks at some of history's worst people, in a genuinely interesting way. I really enjoy the format.
I also stumbled across a new series from Stephen Fry on the 7 Deadly Sins, and who doesn't want to just listen to Stephen Fry forever.
I still have 4 or 5 episodes of No Such Thing as a Fish to catch up on.
Over Christmas with my commutes up and down The Hume I got through 1 and a bit Audible Originals. The first was Riot Act, an satire about a right wing shock jock and the wider media industry in Australia. It was brilliant. Mark Humphries and Dan Ilic did an amazing job, and the cameo episode from Marc Fennell was great.
The second, which I still haven't finished, is Marc Fennell's documentary series It Burns looking at the quest for the world's hottest chilli. There are some brilliant interviews with some very interesting people.
I can highly recommend both Audible series.