The first day we had booked a guide for The Hermitage. It was within walking distance from the hotel, so we set off on foot. The cost of the guide paid for itself when they negotiated our way through all of the queues and straight into the museum before it was actually open. I think they used dad's walking stick as an excuse. The only down side was I didn't like being rude, and cutting past that many people was a bit award, they had been waiting a long time to get in.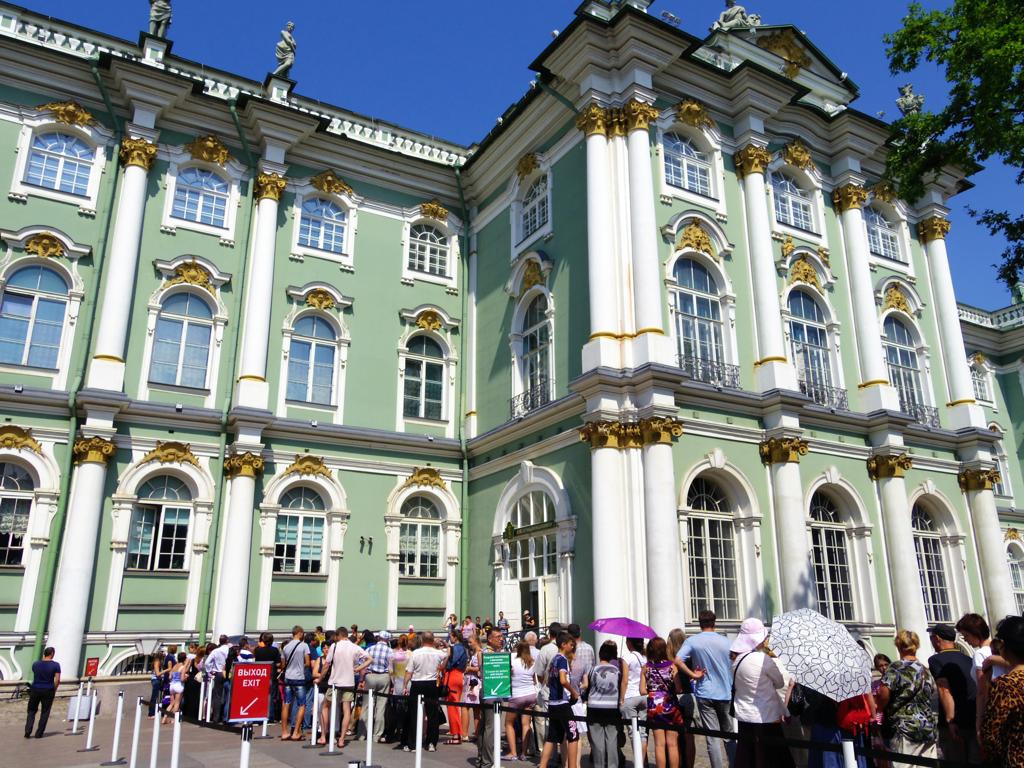 Our guide took us around for a few hours. I know there was so many things we didn't see, but we saw the highlights we wanted to see. Every so often the guide would point out something, and explain that "It is very famous in Russia, you know it?" This also extended to famous Russia folklore and old stories. Very famous in Russia, we had never heard of any of them. The guide also insisted she show us some paintings from a famous Russian painter we must know. We didn't.
One thing about the artwork was that it was on a much larger scale than I had seen before. The Mona Lisa is tiny. Blue Poles is pretty big. But there were some huge paintings here. Even the Rembrant piece The Return of the Prodigal Son was big, 2.6m tall, and it wasn't the biggest, not by any stretch. 4K TVs have nothing on these. Giga-pixel photos have nothing on these (although they can be easily viewed online and navigated with a mouse).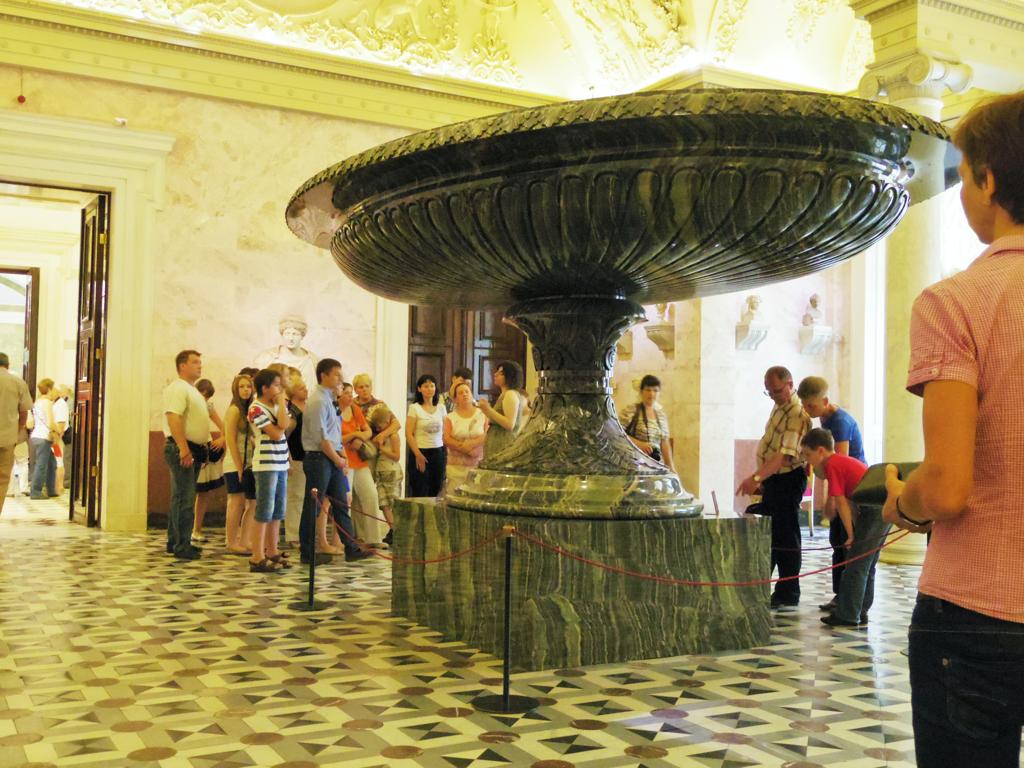 After a few hours of walking quietly (I realised after an hour or so I had been walking on the sides of my feet the whole time, drilled into me during back stage crew days in high school to walk silently on stage) I started to recognise a few of the other groups that were going around the artworks in different directions, we still hadn't doubled up on any of the artwork. About 2PM and we had seen enough, and I needed a break and some fresh air. We ventured outside via a visiting exhibition of Dutch Masters. The queues to get in hadn't gotten any shorter. We headed back to the hotel for a rest. Dad tried catching the train to find the hotel he stayed in during the 70's. Despite a false start with the wrong Metro line he found it. It hadn't changed, but why would it?
The next day the same guide met us in the lobby for our drive out to Peterhof. It was about a 40min drive through Saint Petersburg and out to the palace. We had a bit of a false start as the entrance had been moved. The guide disappeared for a while to collect all the appropriate paperwork to get us in, which was never looked at while we passed through metal detectors that just constantly beeped.
Again our guide tried to negotiate our way to the front of a queue to go through the palace itself. We got stuck behind another group while a very large group of Chinese tourist walked past everyone and got in. The negotiations didn't seem to be going well, but we got in eventually, put on the mandatory plastic booties, including one for the bottom of dad's walking stick, and started heading through. Again, our guide tried to negotiate her way past larger groups of people. They hold groups between rooms to limit numbers in any one area. Again, it got a bit awkward when other groups asked why we were pushing through. A few words in Russian, some pointing, some counting "1, 2" and we managed to leapfrog 3 or 4 large groups, upsetting the guides of most and the tourist of all. Again, there were a lot of very famous things we had never heard of.
Peterhof Palace is it epitomises what the Tsars had with extreme opulence in the ruling class. It reminded me a lot of Versailles. The palace and most of the fountains were almost completely destroyed by occupying German forces in World War II. It has since been extensively rebuilt. You can understand that some might get upset with the ruling class if they are starving and yet the Tsars lived in luxury.
After the palace itself we walked around the fountains and the gardens that seemed to go on and on. The grounds were large and went all the way down to the sea, they also had free wifi, but it was tricky remaining connected as we were constantly on the move. We did manage to pause for a while to get some photos, although the guide didn't seem to understand why we were taking so long. Maybe what we were looking at wasn't as famous in Russia as it is elsewhere.
After an hour or so was walking and looking we headed back towards the exit (up hill). The guide tried to negotiate witha guard to use what was supposed to be the old exit, but that didn't go well and we fought our way through the crowds to go back through the metal detectors that were still going off. Another 40min drive back through Saint Petersburg and we were at the hotel. Pleasantries were exchanged, as were out train tickets for the ride back to Helsinki the next day.
Later in the afternoon we went for a wander around Saint Petersburg to find a late lunch. We did find a hipster coffee shop that included a roasting machine out front to solidify their hipster credentials. It also had free wifi. After that I wanted to catch a Russian Metro train.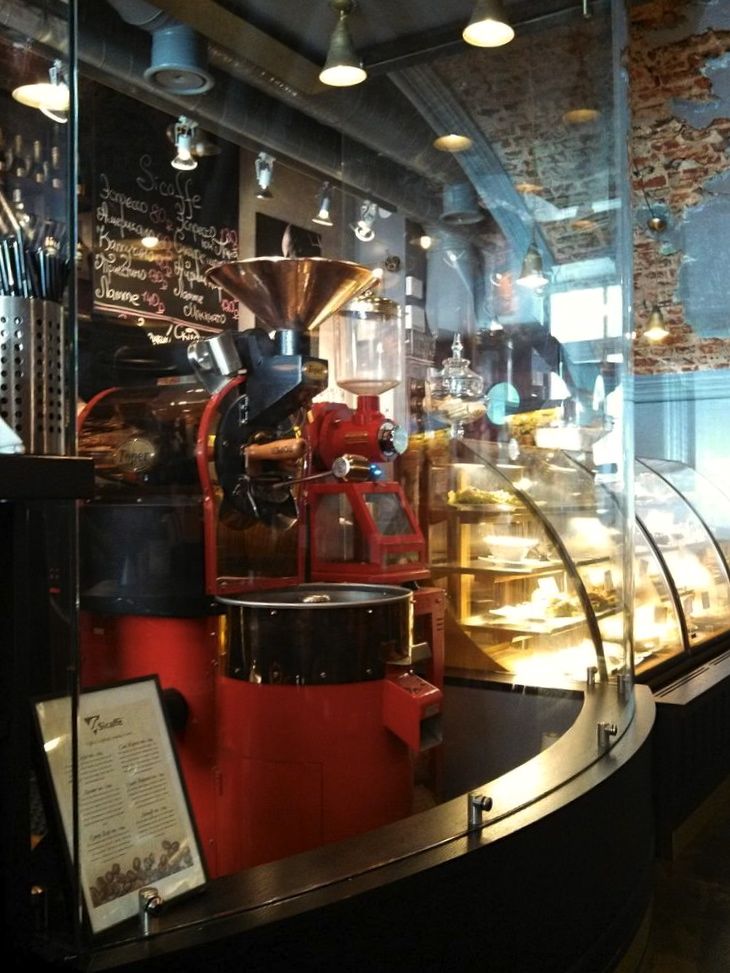 So we headed to the closest station, Admiralteyskaya. A small building that had people pouring in and out. Purchased 4 tokens from person, and went through the turnstiles.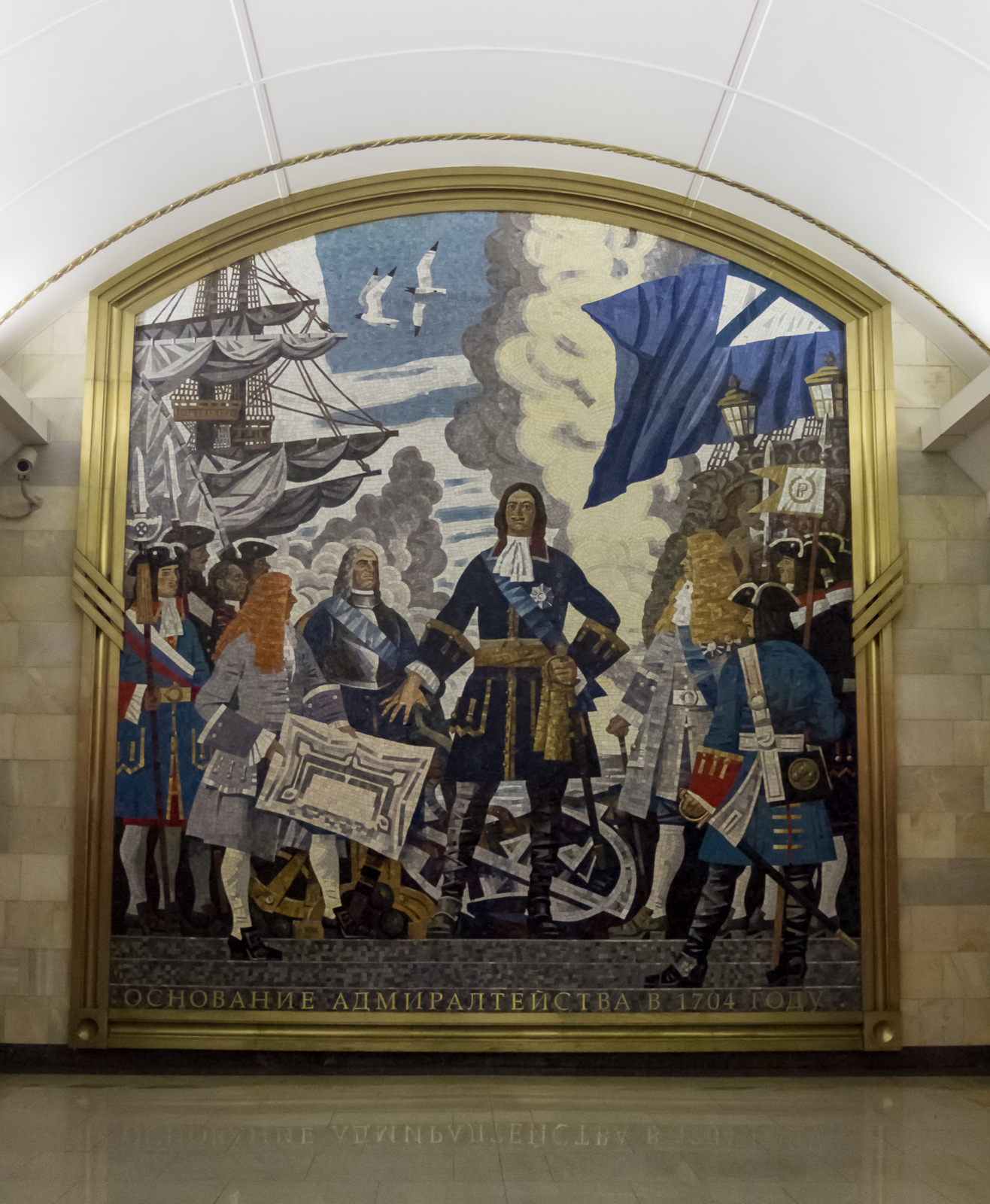 <Insert 15 second Instagram Video montage that the Instagram App ate>
86 meters under street level, down on a rather long escalator that took minutes to reach the bottom. A short walk down hill, another escalator. The platforms were clean, the train was clean, and it was fast. I have no idea what speed it got up to, but it felt fast, and the distance between the stations wasn't short.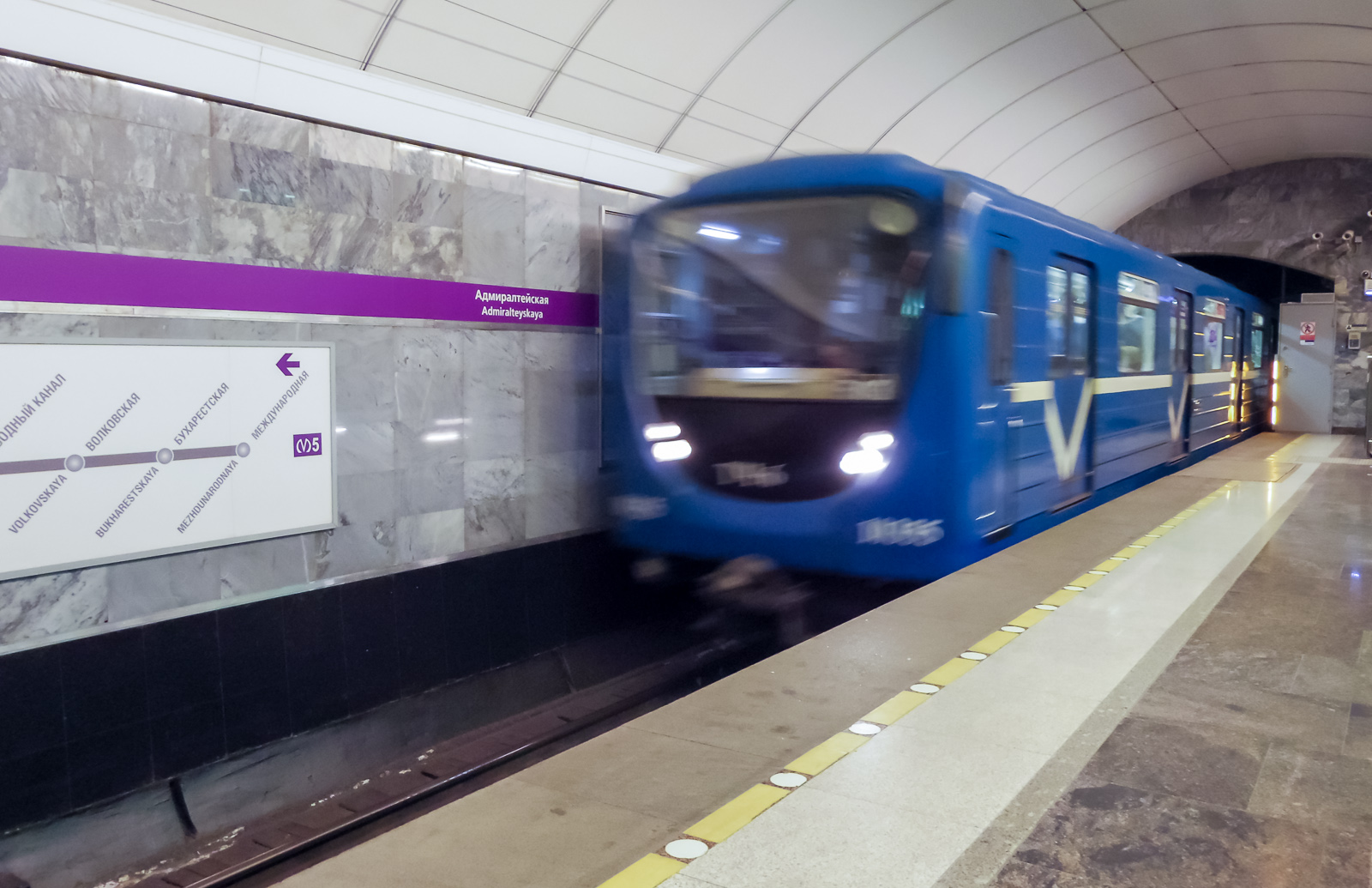 We got off after 3 stops and headed back to the surface. We had no idea where we were, but we did find a fair ground and a river. Still not sure where it was, but I have the GPS co-ordinates on a photo I took.
After a short walk we went back to the station, used our last two tokens and caught the train 3 stops back to the hotel.
In the evening after dinner we looked for a boat to do a cruise on the canals and the river. It lasted over an hour and was narrated in Russian the entire way. Every so often something would be said and everyone would turn and look left, everyone except dad and I. We would then realise everyone was looking left, look left and not have a clue what we were looking at. It was a good way to see different parts of the city though.
| | |
| --- | --- |
| The engine needed a large knife to start it. Seemed fine after that. | |
| | |