Pont in French means bridge or span, we would see a few of them today.
Each morning there would be a new and interesting car parked out the front of the hotel. The Tesla Model X had come down all the way from Norway, I think the Citroën was a little closer to home.
Today we were picking up a rental car for a couple of days to visit some areas outside of Nimes. On the list today was a visit to the museum and replica of Chauvet Cave near Pont d'arc. We had a set time to take a guided tour of the replica cave, so we needed to get our rental car as soon as the place opened.
We caught a local bus from near the hotel to the train station. The bus was very helpful, and let us know that it had a GPS fix, and was running on Linux. Our car for the next couple of days would be a diesel Volvo.
We set off out of Nimes following a combination of Dad's TomTom and my phone giving instructions, and generally agreeing with each other. While the roads were typically French, barely wide enough for one car, they were very nice to drive, with some great scenery. There were also plenty of cyclist enjoying what was a very nice day. We stopped just once, at a lookout over the valley.
We got to the Caverne du Pont d'arc and found a parking spot easily enough, and headed into the grounds. There was a gift shop, two restaurants, a museum, and the replica of the caves with the paintings. The guided tours through the cave are all very carefully organised and orchestrated, with groups leaving every 10-15min in set groups. We were, of course, in an English speaking group that included English, Indians, and some other Australians. We were all given a wireless headset, and connected to the hive mind.
Inside it was quite cool, and rather dark. We moved from feature to feature. At one point a small child had decided they had had enough and their parent took a discreet exit.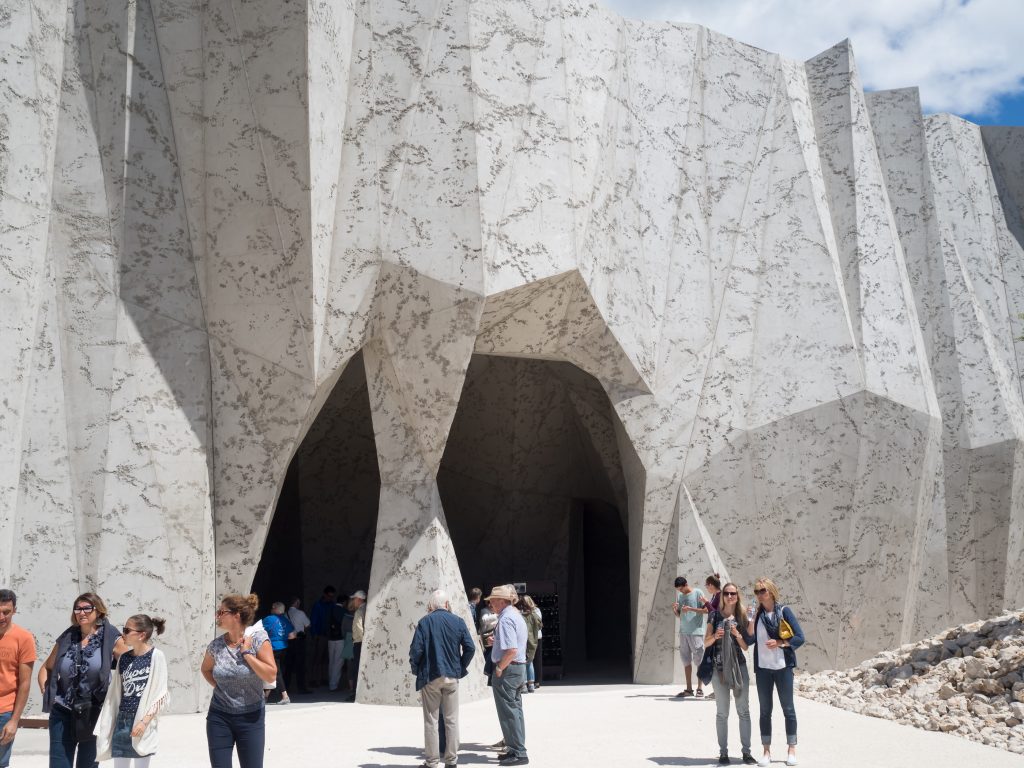 The replica of the cave system is huge, and extremely detailed. We asked if it accurate to the real cave. They said each area was very accurate, reconstructed from 3D laser scans and high resolution photographs. What they had done in the reconstruction was compress the distances between the different parts of the cave system, reducing the walking between the artwork.
The artwork was really impressive, with detailed representations of hurds of different animals. They kept mentioning the artwork was up to 30,000 years old, and all I could think is we have artwork that is over 40,000 years old in Australia.
After we emerged from the dark and disconnected from the hive mind we headed off to find an early lunch, a wander through the museum, and a trip to the gift shop.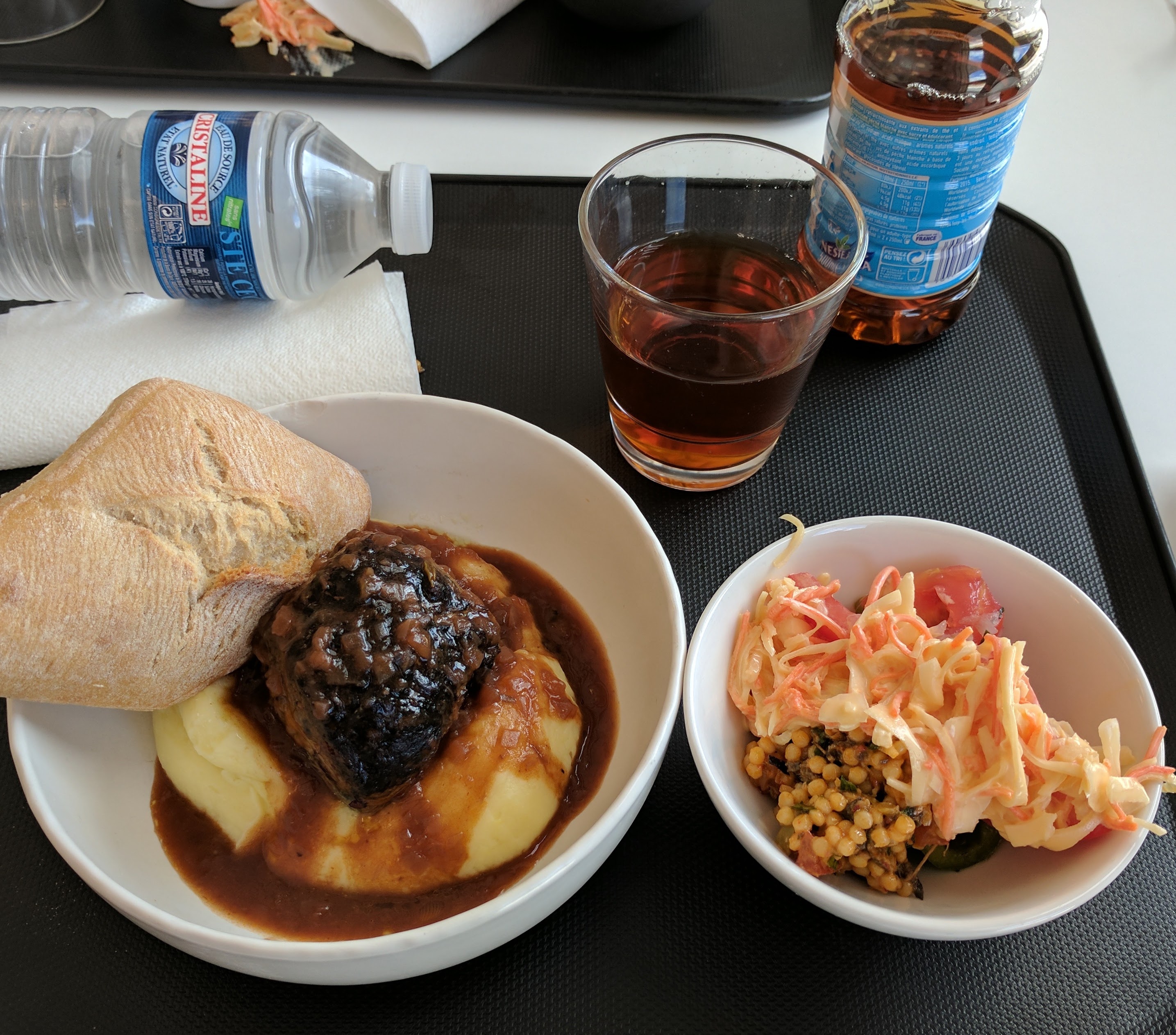 Pont d'arc
Our next stop for the day was Pont d'arc. A short drive back down into the valley.  A natural arch over the gorge and Ardeche. It is a popular spot, with impressive rock formations.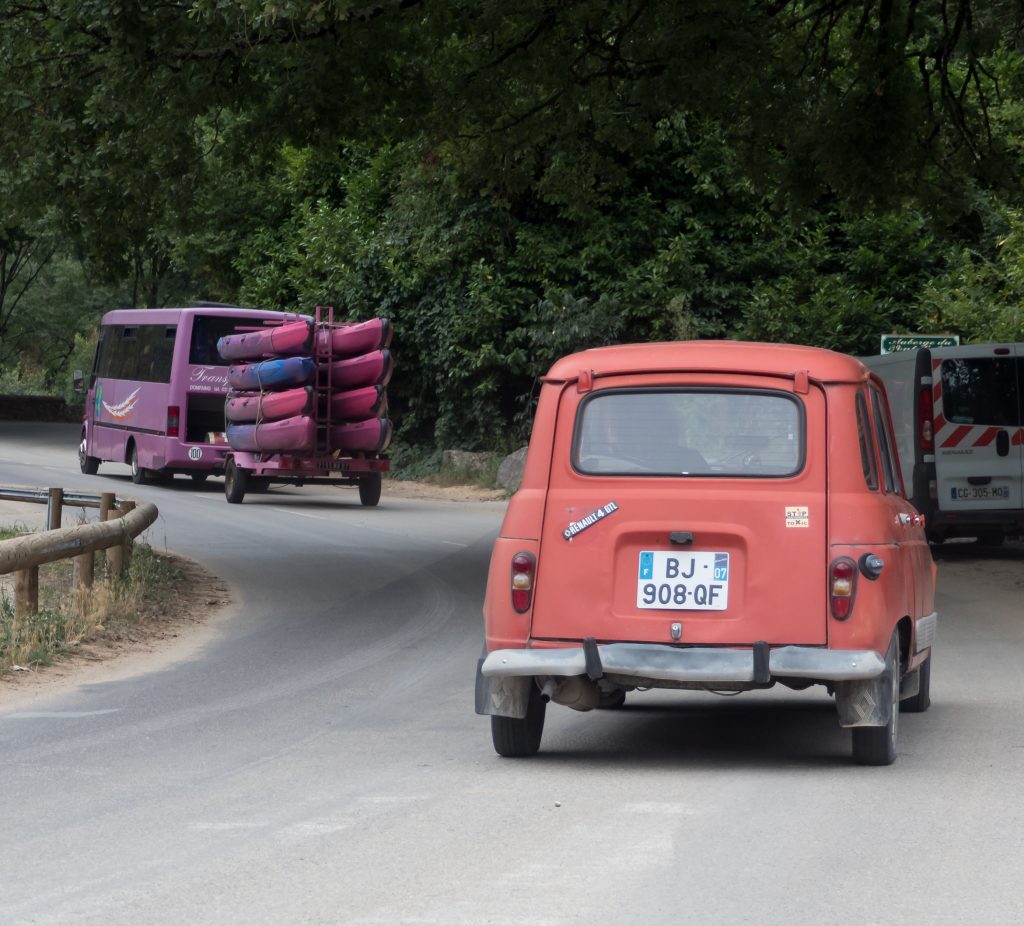 On a level above the river I set up my drone, and sent it up. When I turned it on it started asking me if I had permission to fly where I was, I said yes, and it obeyed me, taking off. While they make a slight racket just above ground level, as soon as it was a bit higher it was surprisingly quiet, and I could fly it around without attracting too much attention.
We took our photos and headed back to the car, we had a few more stops today.

Pont du Gard
Our next stop was Pont du Gard, we followed the same combination of TomTom, Google Maps, and a stream of cars. There are two entrances to Pont du Gard, one on each side of the river, we chose the wrong one, but it was a nice day so we didn't mind the walk over the aqueduct.

On the correct side of the river was the visitor's centre and museum.
After walking back over the aqueduct and to the car we drove back towards Nimes. We were serenaded by Google Maps let us know we had to take the second exit on about 14 roundabouts.