or about 16km of walking…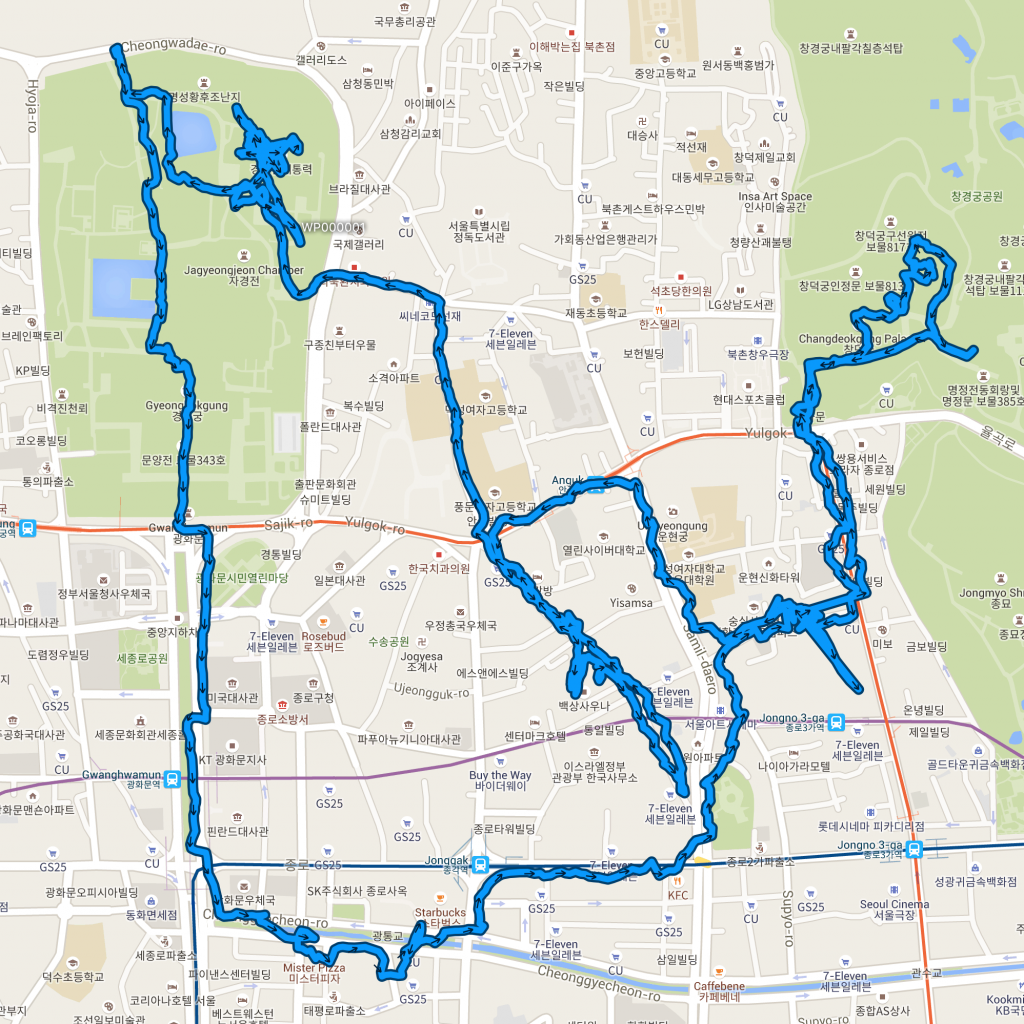 The next day I had breakfast in the hotel and waited for Alex and his wife, Lyn, to meet me before we headed out for the day. I got a message saying they were going to be a bit late, so I should head out in the morning first and they'll meet me a little later at the hotel, so I went for a wander.
Luckily I went in the right direction, and stumbled across Changdeokgung just around the corner not far from the hotel, a UNESCO World Heritage Site. I purchased a book of tickets that would also cover off a few other attractions I wanted to see later in the day and attached myself to the rear of a guided tour in English that was about to set off.
The site dates from way back, late 14th century, but there isn't a lot left from that era. As the tour guide introduced us to each of the buildings she ended each with "But it was destroyed by the Japanese during occupation, and we rebuilt it."
It was still fairly early in the day, but the sun was already quite hot. Most of the grounds were gravel or paved with rocks, and while a few had umbrellas to keep the sun off, they did nothing for the heat radiating up from everywhere. The group huddled in any shade it could when we were stopped. After the tour wrapped up I headed back to the hotel for a cool drink before heading out again.
Alex and Lyn, met me at the hotel and we set out on foot towards a popular shopping area, Insadong. We walked nearly the length of it before finding somewhere to eat. They only had 3 or 4 things on the menu. There was some negotiation, and one of each appeared at the table. The place specialised in cold noodle soup. One of my least favourite dishes, but it was very refreshing in the heat, and the spice made everyone sweat even more.
After lunch we started walking back up Insadong towards the main palace precinct around Gyeongbokgung. The first thing we visited was the National Folk Museum of Korea. Alex had never visited it before, so it was new for him as well. The museum covered the history of the Korean Peninsula, and the relationships between the area with China and Japan.
The most interesting displays was a series that took you through the life of a Korean, from birth to death and all the important cultural moments. It included how certain traditions began, but also how they were still practised today, and how they had changed over time. Alex also found these interesting, and commented that his family still practice some of the traditions today.
We left the museum and head further into the palace complex. There was an arm of school kids, and klumps of tourists in Hanbok. We walked through the different builds. We spotted a few police officers near a gate, I didn't think anything of it, but Alex was perplexed. There usually aren't guards at that gate. He ran up to ask what was going on, and ran back to us with a grin on his face. "Do you want to see the blue house?" he asked excitedly. "Sure" I had no idea what the blue house was.
We excited through the gates and walked up towards another gate in the outer wall of the complex, that was completed blocked by tourists. They were trying to avoid the sun, but in doing so had made it completely impossible to pass. Alex, Lyn, and I politely barged our way through. The Blue House is the president's official residence. Built into the side of a hill facing south.
We took a few photos, and I started to put my camera away before trying ot make it back through the crowds, when someone grabbed my arm. I looked up. A small woman was pointing at a friend holding a camera.
"Photo!"
All I could think was, but I'm not American. Granted, if I kept my mouth shut I could easily pass for one, but I was not an American. I stood still and looked vaguely in the direction of the friend with the camera, keeping my hat and sunglasses on. Alex had walked off, and I started to make my getaway back into the crowd.
We continued walking around the palace grounds, looking in the different buildings before making our way to the 'front gate' – Gwanghwamun. We walked down Sejong-daero to Gwanghwamun Square. A large public square with a statue of King Sejong, who, amongst other things, invented the Korean alphabet in the 13th century.
We continued down to Cheonggyecheon, a creek / public walkway through the middle of Seoul. I was really enjoying all this public open space, and the walk through Seoul, but it was into the high 30s and we needed a drink, and something to eat. We tried one bar on Cheonggyecheon, but we left there without ordering anything. We walked a bit further before finding a 7-eleven with a tablet and chairs out the front. We then headed back to the hotel to refresh.
Lyn had done enough walking for the day in the sun, and I think Alex had too. I was the only one wearing a hat. Lyn left to catch a subway back home. Alex and I went looking for dinner in the maze of places just across the road from the hotel. We did a lap, inspecting each of the options before settling on a bbq place. Alex ordered all the appropriate things and started preparing the cooking plate. The food was great.
After finishing first course we set out again to find something else. Alex wanted to go to Gangnam, but I wasn't that interested. I had a flight the next day back to Japan, and despite wearing a hat all day, also looking forward to bed. We found a small place on a road, I took a seat while Alex examined the menu and ordered for us. We had a mixed plate for fried things, including a few items that were very spicy, but the main reason for choosing the restaurant was a fermented chestnut drink Alex wanted me to try. It was slightly sweet, but surprisingly tasted remarkably like a fermented chestnut drink.
The next morning I had breakfast in the hotel before packing everything back into my backpack and heading back out into Seoul. I followed my nose and found Cheonggyecheon and walked back into Gwanghwamun Square, where I found a tour bus to take me around Seoul, a good way to do not very much, but still see a bunch of things while carrying a backpack.
The bus tour went for over an hour and included a trip up Namsan Mountain. The bus passed a lot of cyclists on the way up. It looked to be a very popular climb for the locals. At the top of Namsan I am sure I could have seen some great views, but I was tired and was carrying everything with me for the day, so I sat in the bus and enjoyed the trip back down into Seoul and back to Gwanghwamun Square.
My next quest was to find a bus to the airport. I had barely any Korean (Won) left, or I had gotten almost exactly as much cash out as I needed the day before.
I located a bus heading to the airport and got on last. They had a card scanner at the front and I hopefully waved my credit card over it. Nothing happened. The driver took off. I waved my card at it a second time, nothing. Through the drivers broken English and my complete lack of Korean we agreed I had to get off at the next bus stop as I had no way to pay for a ticket. They didn't take credit card – only magic Korean transit passes – and I didn't have enough cash.
I flagged down a taxi and stuck my head in the window, looking for a credit card machine, and asked if they took card.
"Where do you want to go?"
"The Airport. Incheon."
"Yes, yes yes."
"Do you take credit card?"
"…. airport. Incheon. Yes."
I jumped in the back. What was the worse that could happen, I end up where I need to go and no way to pay? We get into a heated discussion at the other end in two languages neither of us can understand? I kept trying to decipher the various electronics attached to the centre console. There was a contactless payment machine like the one in the bus that was useless to me. Various other screens and counters informing me the amount of the trip was going to exceed my cash reserves by an order of magnitude. We got to the terminal and I handed over my card. The driver reached under the seat and pulled out a familiar looking payment machine, waved the card over it, and I was off into the terminal to look for a paid lounge.
It was there I discovered I really loved  french fries covered in honey syrup stuff.