We walked down the street to the bus stop and caught a local bus into town. For S$20 (AUD$15) (plus S$10 deposits) tourist can get unlimited travel on the trains and busses in Singapore for 3 days, not a bad deal the trains are clean, quiet and efficient. There is never a reason to run for a train, there will be another one in just a few minutes.
One thing that made this a really good option for us was our gracious hosts lent us a 3G iPad while we were there. Google Maps is brilliant, but the integrated transit directions were what was really awesome. Put in the name of anything, and a few seconds later, detailed directions to a bus stop and we were on our way. They even had the most recent additions to the train network, the official Singapore MRT app doesn't. Both Dad and I preloaded a bunch of Google maps before leaving Australia – but these aren't searchable offline ( :-S ), we also downloaded an app "Maps with Me" which can download offline maps with a searchable street name and POI database. This was handy for finding locations and getting bearings, but the transit directions from Google where fantastic.
We got off in Orchard Rd, a major shopping area and found this place, dedicated to Chinese sausage meat. So much cured, smoked, and other meat.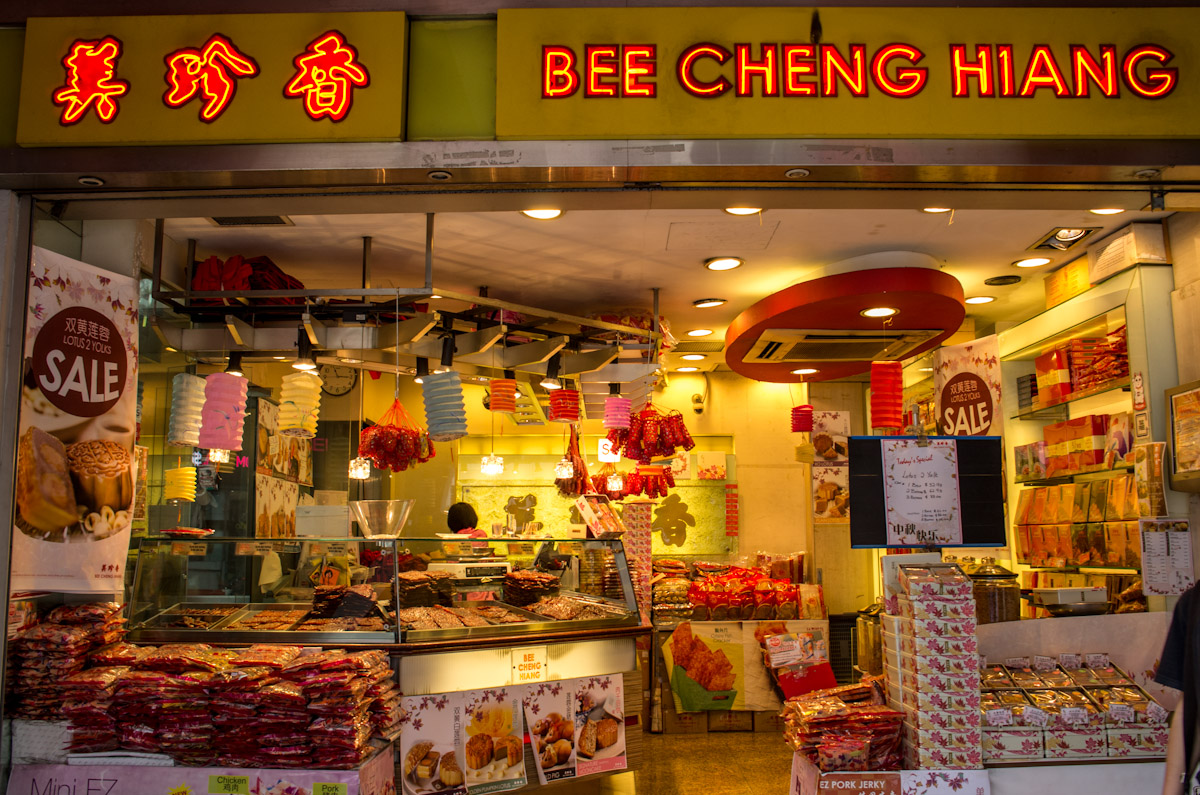 Down the road was this place. Not sure if it is a rip-off, or just a different name, because rock doesn't translate well?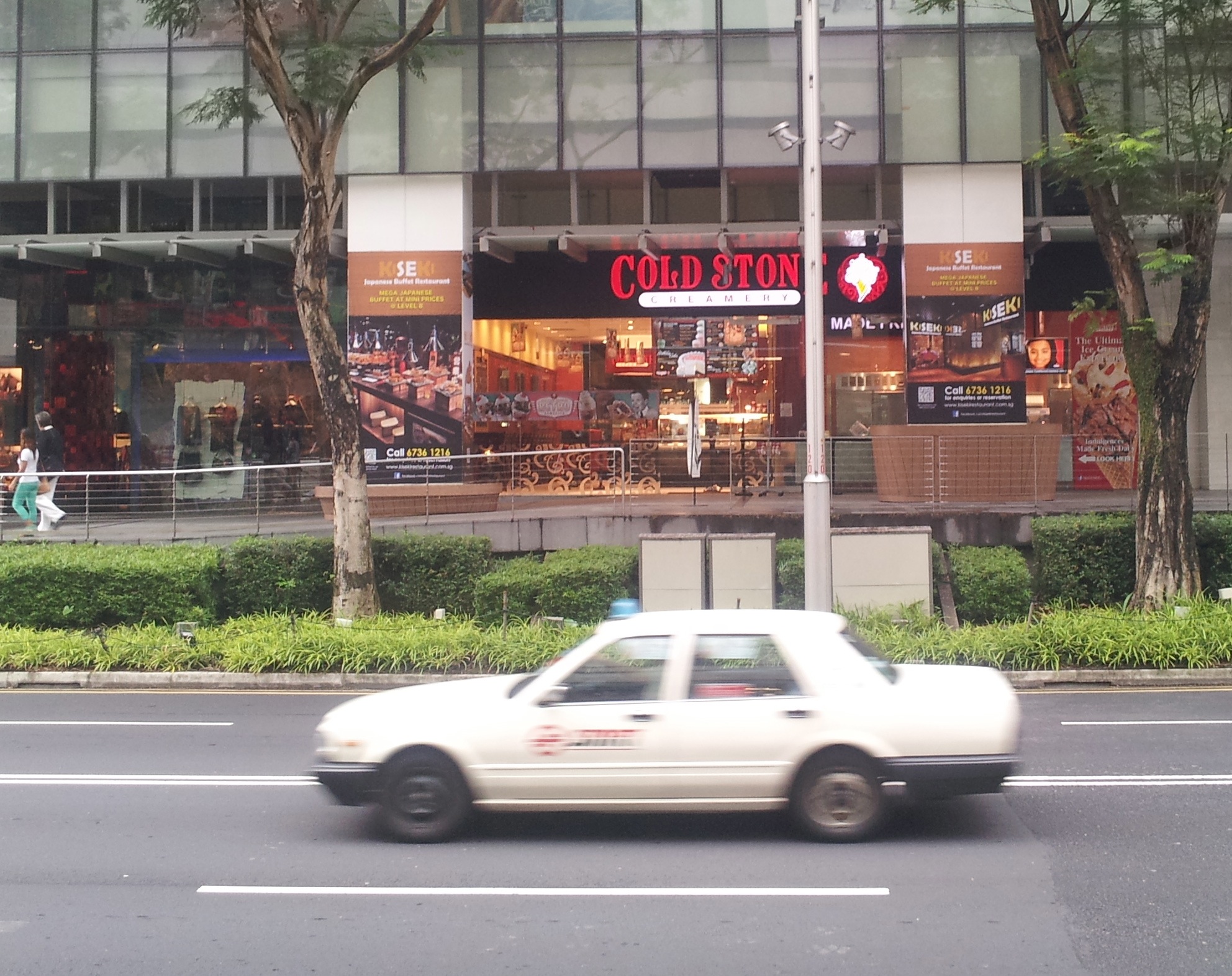 We went into one of the huge shopping centres, which was full of boutique shops, which were all shut as they don't open till the cool people get up around midday. What was really good, was in these exclusive places there were still quality junk stands in the middle of the walk ways.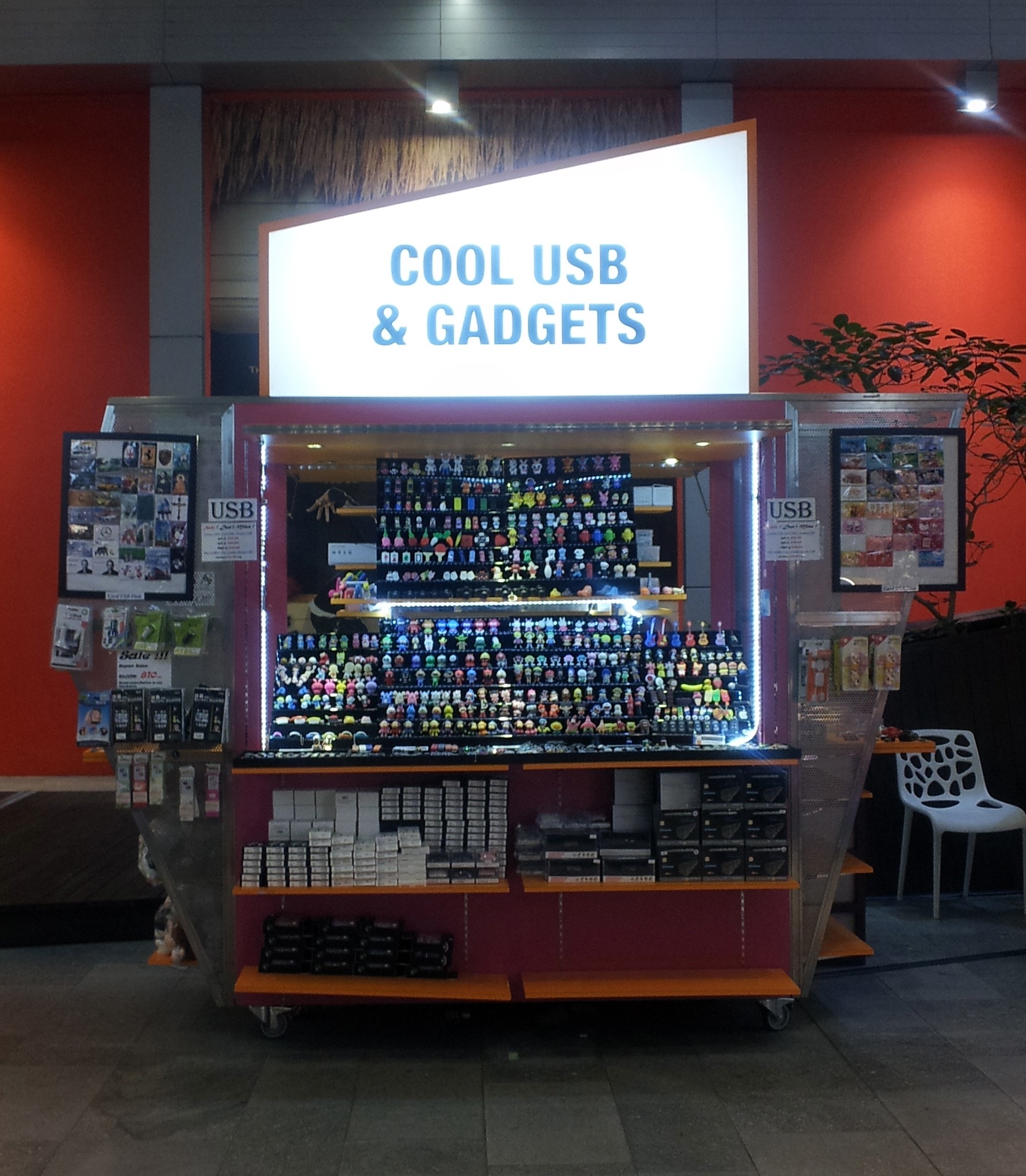 After getting lost for a bit we decide to try and find the roof top gardens. Got in a glass elevator and went up. Got lost again. Found an escalator and went outside. Around a few exclusively priced restaurant was a small outside garden.
After being retailed out we set off for Arab Street to find a record store @Prohairetic told me I should check out, naturally this was also closed, a man from the tattoo / barber under the record store (with a fantastically styled moustache) told me he doesn't usually open till between 2 and 3. Turns out they had a guest/trainee barber from Perth working with them at the moment – I didn't know that was thing. As it was only 11 we headed off to find some old temples Dad had read about. iPad – Google Maps – Transit Directions – and we were off again. Another bus through an old part of Singapore and we got off in front of what I think was a sex club, but couldn't be sure, and headed next door to a very old Hindu temple. Took off our shoes, and did the respectful traveller thing had a look around, took some photos and left, to find the next old temple.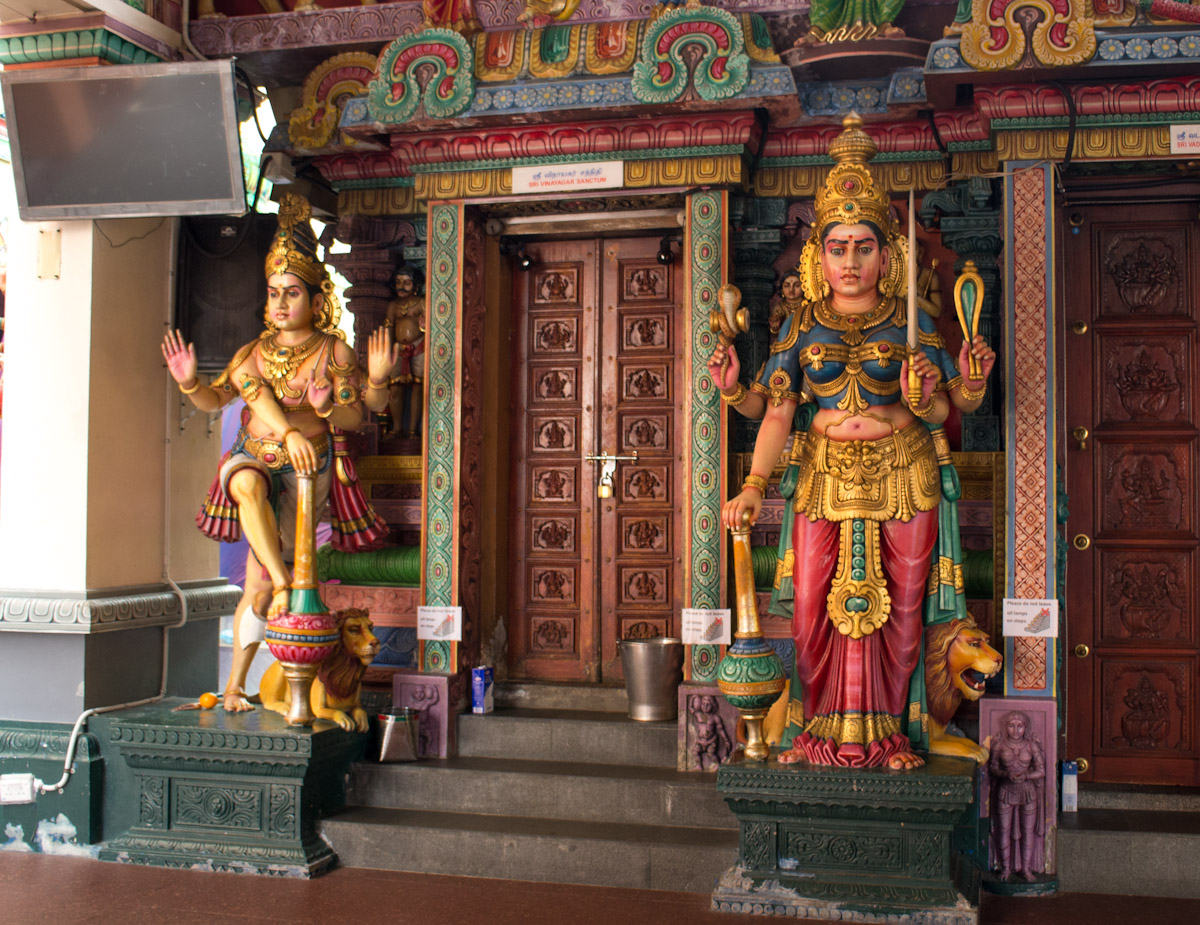 This was much large, and had a few people milling about.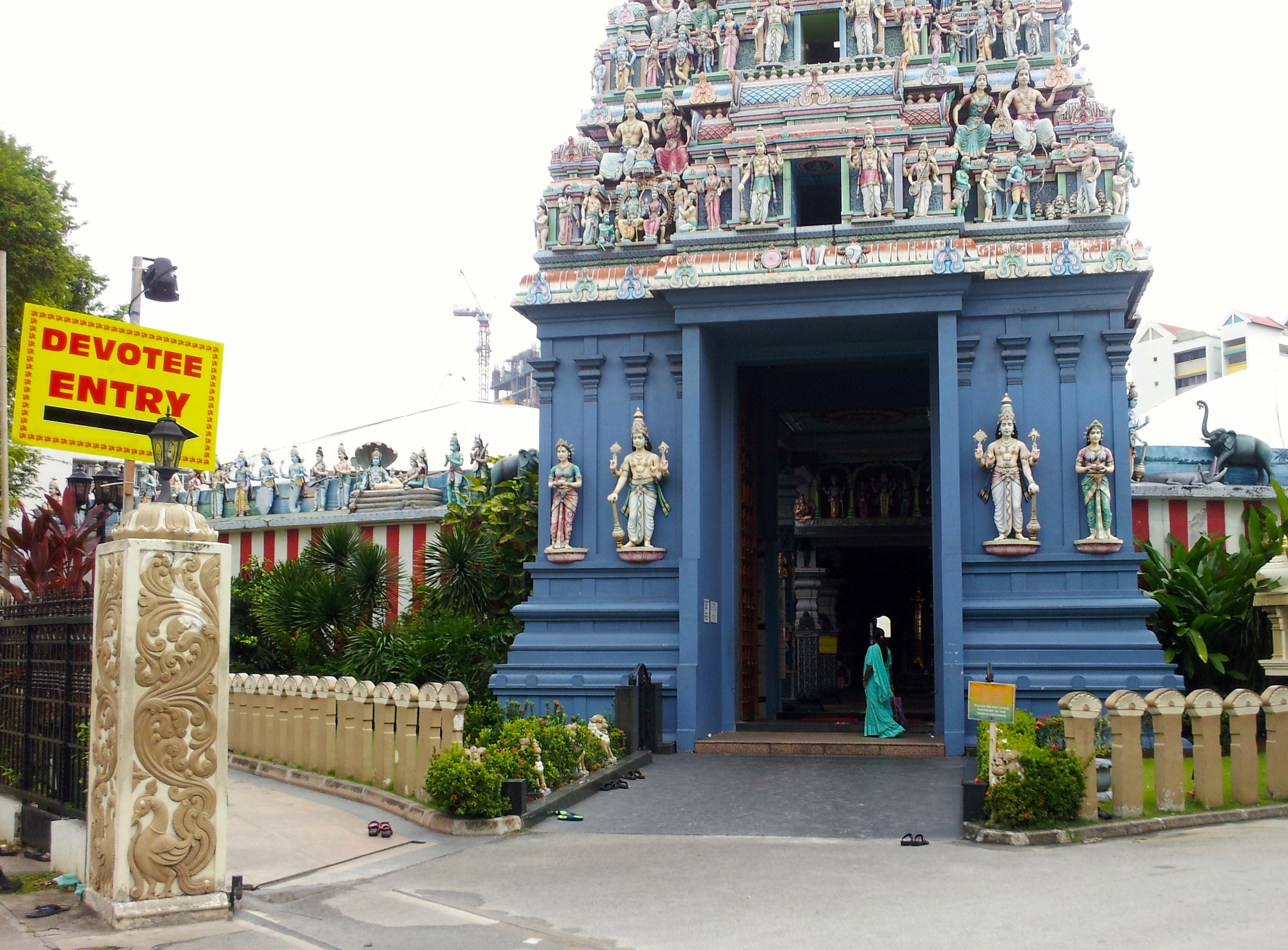 We walked back to a shopping centre we had passed on the bus to get some lunch. Found a cafe, and wifi. A few of the shopping centres seem to offer free wifi. At least two of the phone companies seem to offer wifi nearly everywhere for subscribers. I tried a couple of times to get a pre-paid SIM while in Singapore – it didn't go well. After lunch my parents went back into the main centre of Singapore in search of museums.
I went back to Straits Records. iPad – Google Maps – Transit Directions, and I was off, following my nose towards a bus stop. I think the bus stop I was aiming at had been closed or moved for road works – there are nearly as many road works in Singapore as in Canberra – if not more. The difference is they work during the night if required, with multiple people and actually compete them here – walked passed a few interesting places on the way including the KING of Pig's Organ Soup.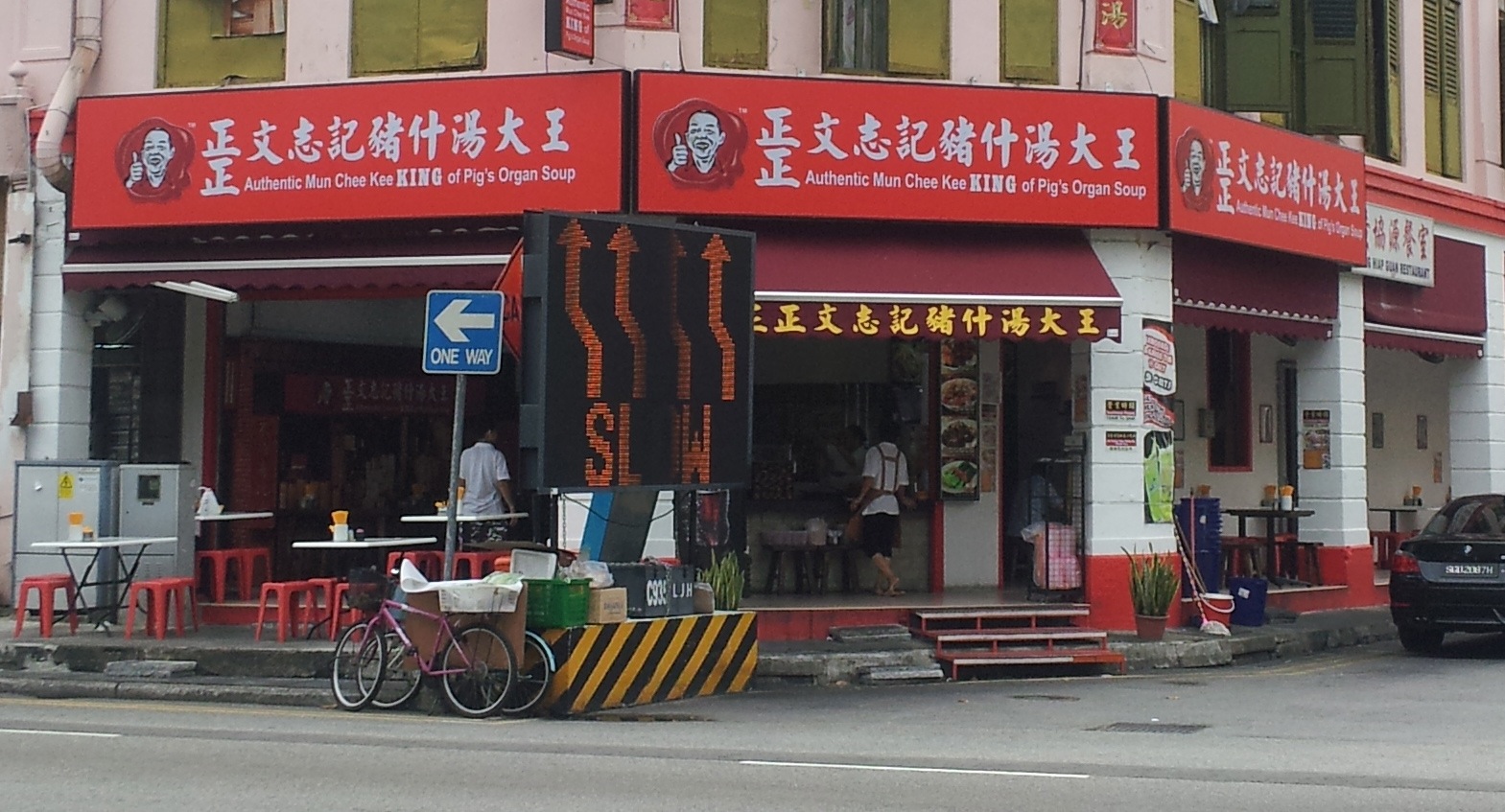 And what I think is spiritual origins of JayCar.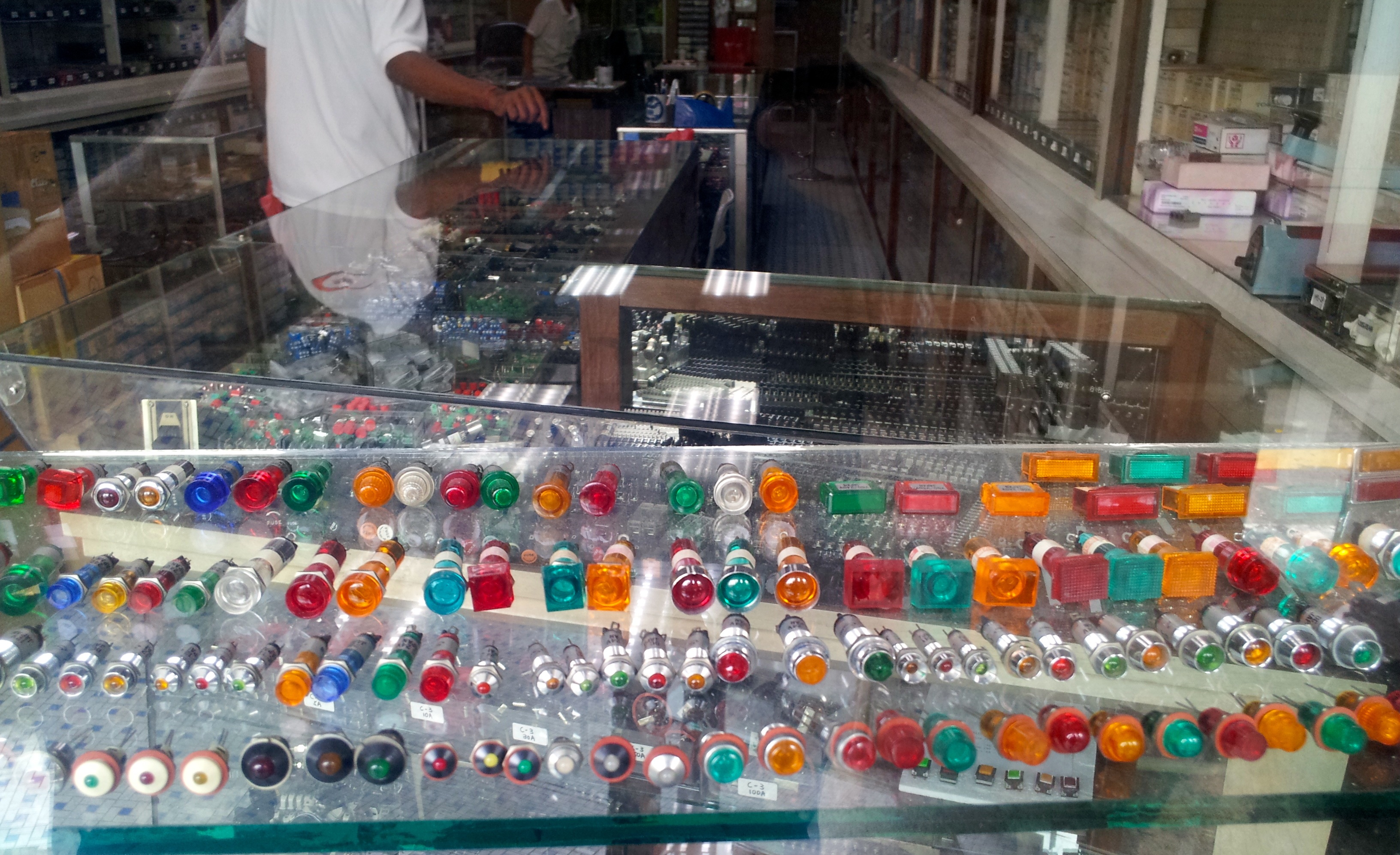 I waited or the bus with the locals, who did seem very confused to see me waiting on the side of the road with them.
Straits Records was a very interesting place (thanks again @Prohairetic). Run by a Malay raster with some very impressive dreds and a cat on a rope.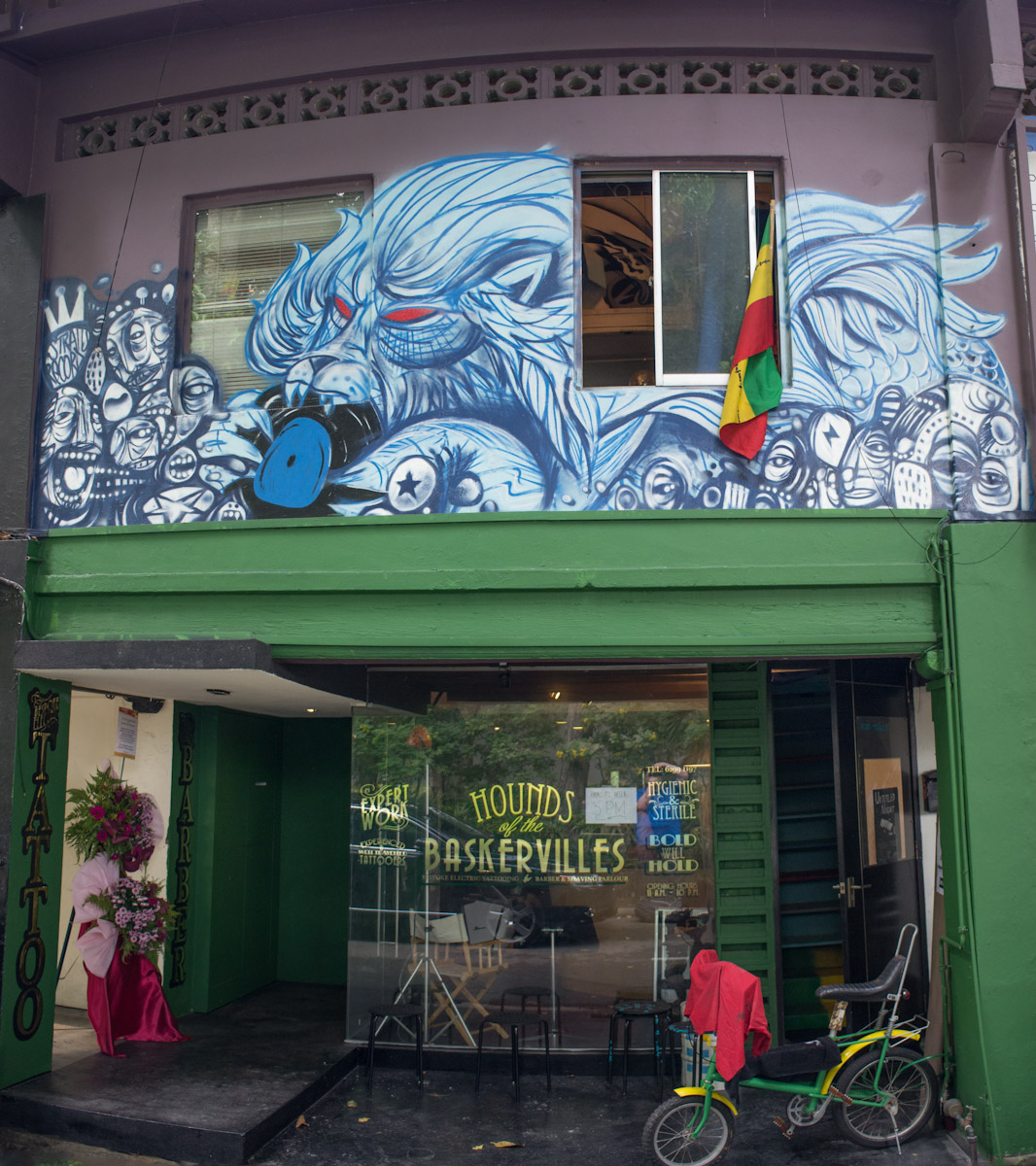 I asked him for some local metal and rock music, and he was happy to go through the racks pulling out interesting sounding bands that I have never heard of. Now all I need is an optical drive to rip them with.
I headed back to the station and caught a train into the city to meet up with my parents. After getting off the train I headed in what  thought was the right direction and got side tracked in an underpass to The Esplanade. We had organised for Dad to turn is phone one so we could SMS each other to meet up again. This didn't go well. Dad didn't get my messages until after we found each other late.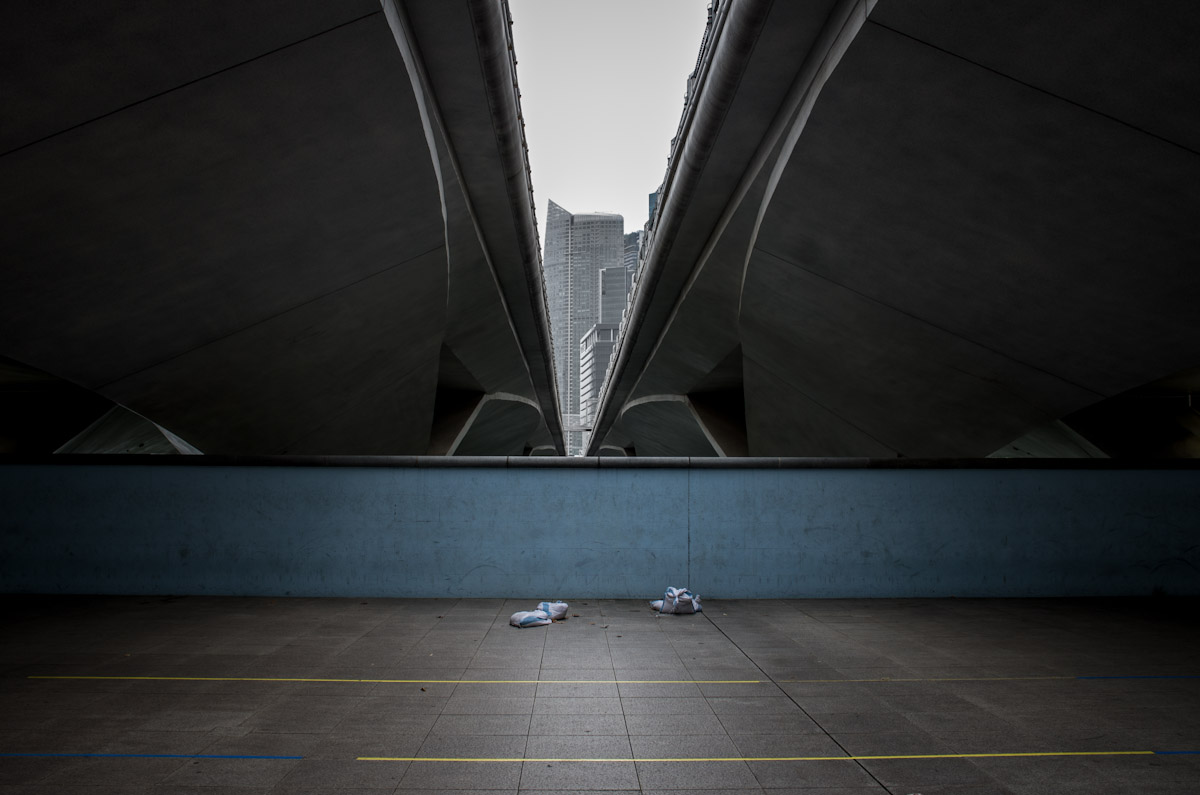 I wanted to stay in the city till much later and get some photos at night so my parents went back to meet up with our hosts and to go to a school production. I walked along the river down to Clarke Quay. A night spot for foreigners with over priced drinks and snacks. There is also a Hooters to bring an authentic foreign feeling to the place. There were many underpasses for pedestrians to go under the roads, at each of them was a sign saying to walk your bike through them. I never saw a single person dismount their bike.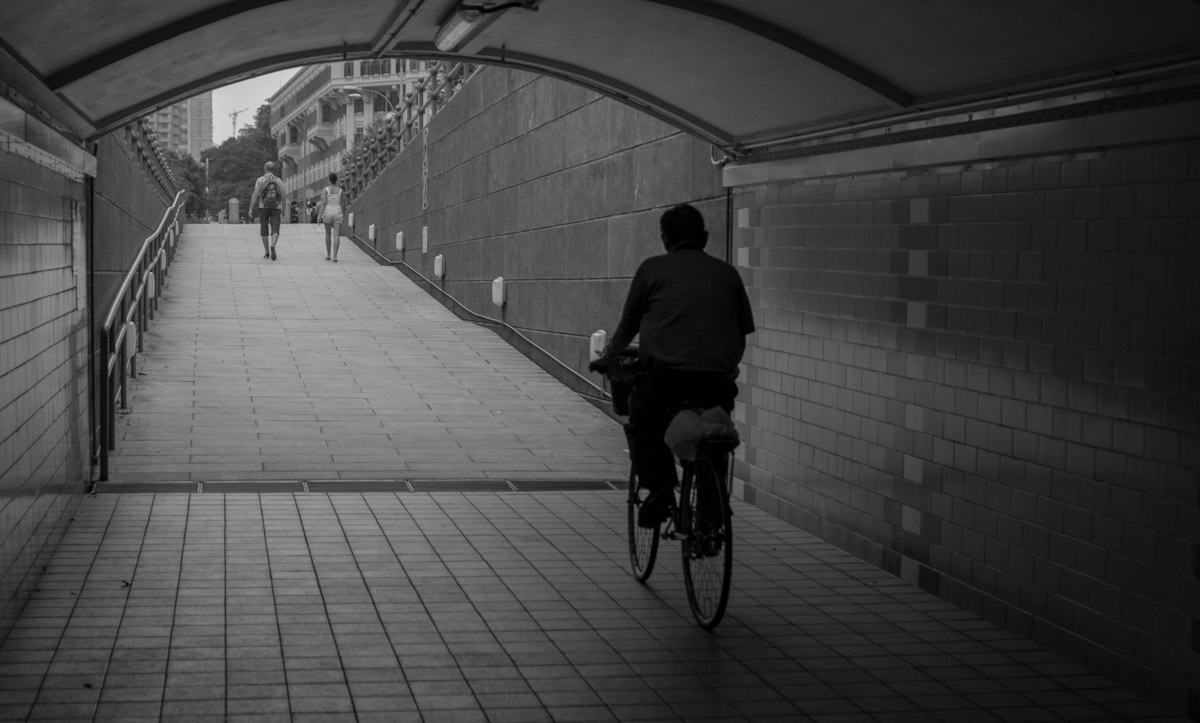 After a drink in Clark Quay I walked back along the river to The Esplanade to find a good spot for some night shots. The Esplanade has a roof top area that seemed to be popular with young couples. I figured I had at least an hour before sundown so went back inside to find somewhere to sit in air-conditioning until it was dark. I found a cafe inside a library. There was a sign saying "During peak hours please do not study here". I sat down with a drink and my tablet. Made a short attempt at getting on the wifi provided by a phone company and played through a few levels of Angry Birds.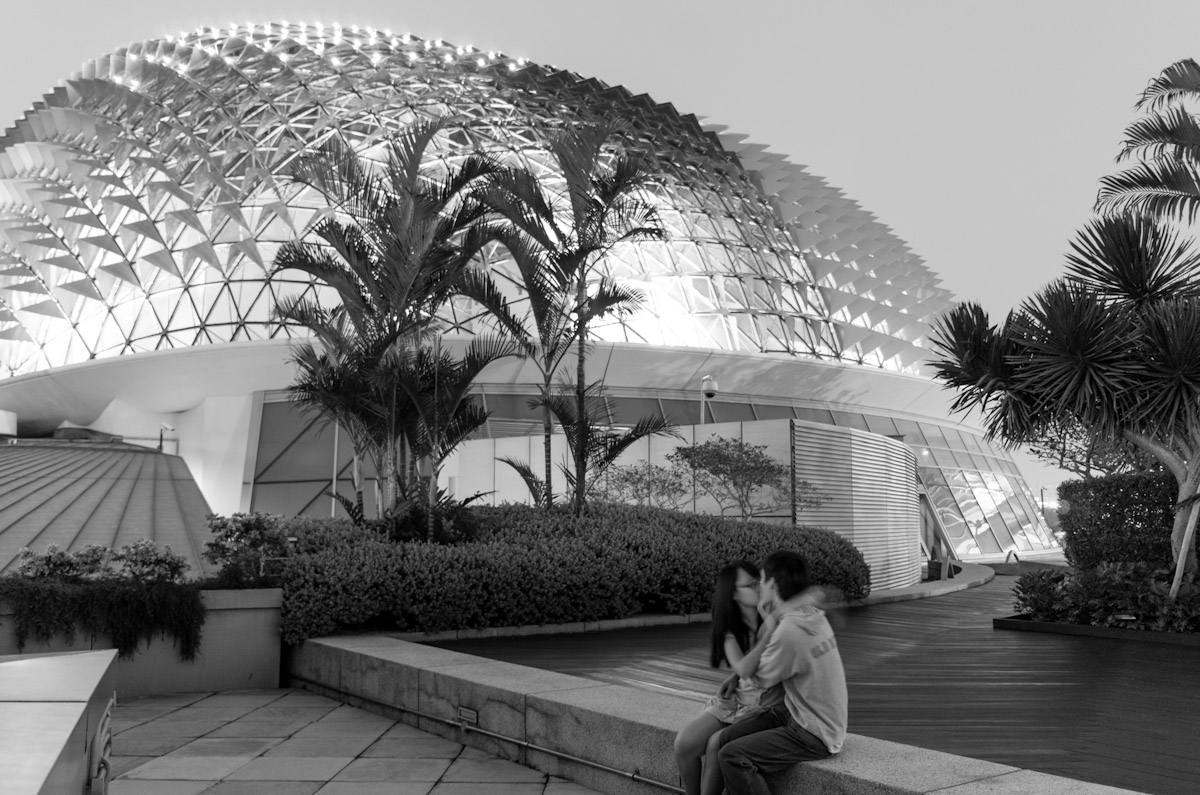 Just as the sun was setting I head back up to the rooftop to get my tripod out. I had carried y tripod the whole day and was determined to use it. After a few shots on top of the roof, I went back down to the edge of the bay to get a few more.
While I was getting  few photos of the buildings in the city the new Marina Bay Sands hotel started making all kinds of strange noises and shooting lasers all over the place. Now I know why Yen told me to go down there at night with a tripod 🙂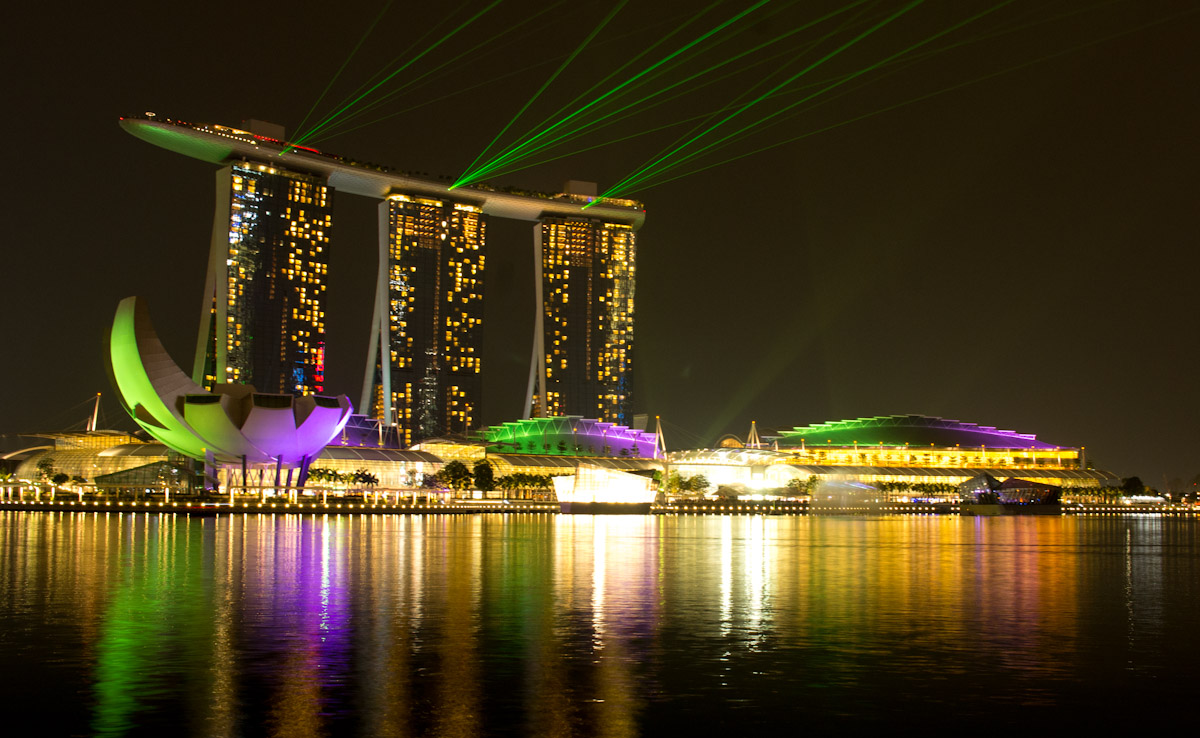 When It's a Wonderful World played I figured that was it for the night and headed off along the GP track to find a taxi. This took slightly longer than I thought and ended up doing about half a lap of the GP track.