Day 11 started at a reasonable hour after breakfast. We had hired a taxi for the day, Mr Singh, to take us down the road to see some sites. We took the road from Mussoorie down to Dhanaulti.

It didn't take long before we came to the ridge line and could see the snow covered Himalayas. It wasn't winter yet, and only just finished summer, but there was still snow. We all piled out of the car and started snapping. I'm not entirely sure how far away what we were looking at was. We could see three tiers of mountains. The green ones with trees on them, the next row back where brown, above the tree line, and then the last were white and covered in snow.

I really wish I brought a longer lens. Longest I had on me was my 50mm, only other one was my 18-55 I brought because it was water proof. If I had more of an idea of what it would have been like to these I would have lugged my 50-135, or even my (much lighter) 70-300. But this has been the only time I wanted a longer lens, and I've enjoyed shooting with the primes. They are just so small and inconspicuous.
After we had taken a few photos we jumped back in the car and continued down the road towards Dhanaulti. The scenery was pretty spectacular, we stopped a couple more times for shots, but the clouds were rolling in. Mr Singh said that was the last we would see of the mountains that day. The clouds were there and wouldn't be going away.
We stopped about halfway at a Himalayan Weavers shop. It is a couple of rooms tacked onto a house in the middle of no where, but they do have 3G Internet.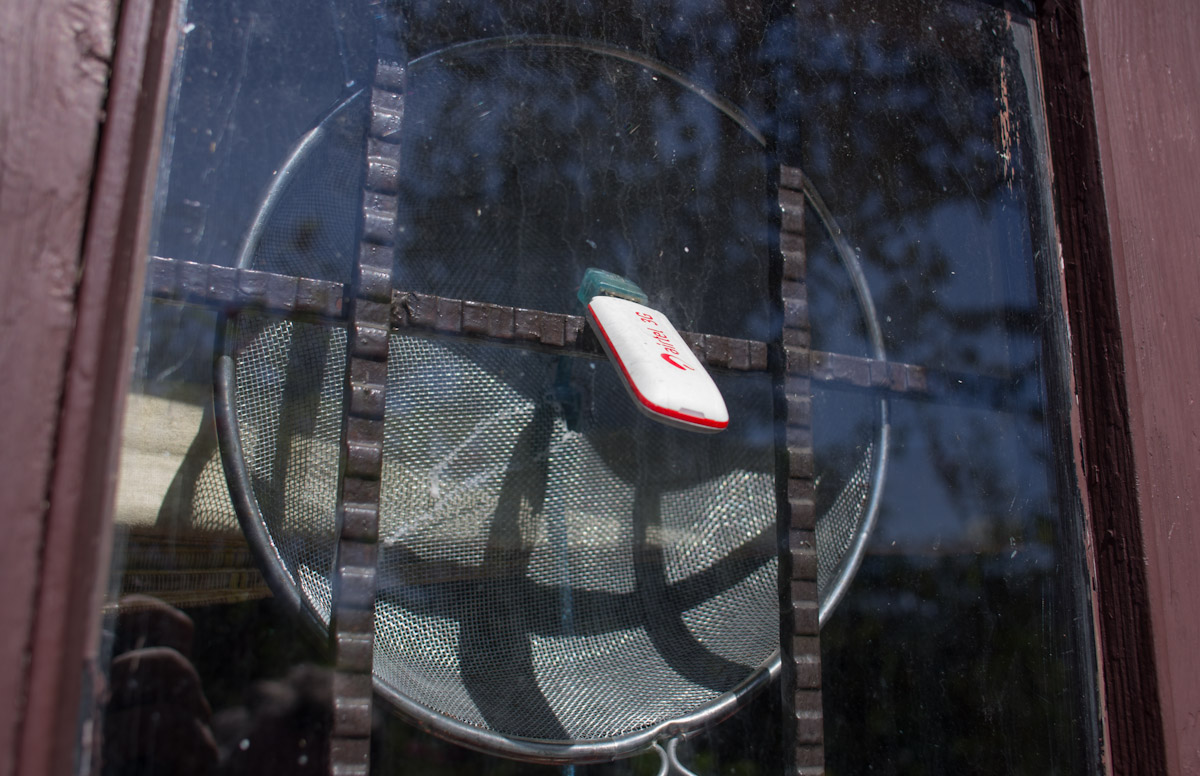 After spending money on more things that would be an effort to get into our suitcases, back in the taxi and we set off further down the road. We stopped in Dhanaulti for some morning tea and walked through the village. More things were purchased, and we got back in the car for the return trip. We headed back towards Mussoorie, and George Everest's House.
The drive back was a bit quicker. We had taken longer getting to Dhanaulti than we planned. If you ever want to get anywhere fast, don't go with a photographer. The slowest bit was getting around Mussoorie. While we stayed off the Mall Road as much as possible, we still had to go over it. There is a by-election in the area and politicians (poly – many, tics – blood sucking creatures) were out campaigning in force, with their terrible, terrible music.
On the way we came across some people shooting a music video. Slightly unexpected. We all piled out of the car and started taking photos, Howard ran off to speak to them and ask them about it. Not something you see every day.
We piled back into the car and continued up the dirt track towards the top of the hill. The taxi stopped near a couple of small brick buildings that seemed to be a family's home. They had a couple of cows and some goats. We casually walked through their front yard. Part way to Everest House we ran into an Australian who works at Mussoorie and her husband. He is about 6'8″ so he tends to stand out. Middle of no where up a hill and there is this thick Aussie accent saying g'day. They had ridden up on a motor bike and stopped for Chai at a tiny shack near Everest house. There were a few locals there as well, who seemed to be bemused by all of was wondering around.
| | |
| --- | --- |
| | |
Walking up the side of the hill under the prayer flags was a herd of goats. Slightly unexpected, but what was more unexpected was a shepherd walking up with them. The slop was steep enough to keep away from the edge. Goats walking up – unexpected, but then a person walking up, carrying a load of grass on their back, impressive. While the herd was gather at the top the shepherd went back to the edge and started calling down, one goat was missing. It bleated and came bounding up. It was a small insite into rural village life which continues now.
We left Everest house, following the herd and headed back to the car. Lunch was at the Imperial again, this time we had to negotiate for vegetables with our meals. It was listed in the menu, but didn't arrive on the plate. After some arm waving, English and a bit of Bangla, a small plate of butter sautéed veggies arrived. Following lunch we walked back from the Library end of the bazar to Clock Tower via Camel Back Road. A pleasant level stroll mainly in the shade. There were a lot of expensive houses and hotels owned by large companies and banks from Delhi. They use them to send and impress high value clients, and I can't blame them, it is a fantastic place to visit and get away fromt he bedlam and heat of Delhi. There were a few moments where we had to defend our bag of bananas from some monkeys, but we got through unscathed.
A quick stop in Clock Tower for a suit fitting and to pick up Dad's purchases before we jumped in a taxi and headed back to Woodstock.