We decided to go to Bruges on Wednesday looking at the weather for the rest of the week. It was supposed to be sunny and 28, but rain later in the week. After a successful trip on the train the day before we set off again for Gare du Nord to get another train, this time in the opposite direction to Bruges. We sprung for 1st class tickets again, noting the insane number of campers and travellers the day before. Turns out the previous day was a public holiday, while there were still a lot of people on the train the tickets were about 3 times the price!
---
I set myself up with my tablet and keyboard on the train to do some writing, and go through some photos.
| | |
| --- | --- |
| Xiaomi Mi Pad and the Microsoft Universal Keyboard, served me well. | Bike parking in Gent |
It was a relatively short run to Bruges, as long as you don't get a train stopping all stations it is just a little over an hour. Offline Lightroom on Android seems to be a bit hit and miss. It is easy enough to go through your photos, and flag a number as picks to be processed later, or even do some basic editing. However, the editing is limited, and every now and again the Lightroom seems to forget you are logged in, especially when the tablet is in Aeroplane Mode, making it impossible to get access to your photos, even those you downloaded them for offline editing. After authenticating again it remembers all the files you had downloaded and there is no need to re-download everything again, but if you are 11km up in the sky it can be annoying.
In Bruges we left the railway station and started walking in the general direction of the old town. The first task was to find a place to take a boat ride along the canals. We found one close to where we entered the old town and queued up. During the ride they described the water as fresh, while it wasn't salt water, fresh wasn't a word I would use to describe it, especially the odour in parts. Ripe would have been a better word. Most of the buildings were built right on the canal. There were a lot of boats on canals, all taking tourists around with commentary in French, German,sometimes Dutch, and English.
After our canal ride we walked further into town, towards the main square and the clock tower. Most of the streets were cobbled, and there were a few carriages being pulled by horses, as well as some trucks that were simply too large for the streets driving through them anyway, delivering stuff to the stores.
The main square is quite large, and there were people everywhere. It wasn't clear where the road stopped and the footpath started, but the trucks seemed to keep to one line, the horses on the other hand just went wherever they wanted. One of the most popular ways of getting around Bruges is on a bike. The place is almost completely flat, with the steepest climbs being 2 metres over an arched bridge, and there were a number of places where you could rent bikes.
We left the main square and headed towards the town hall. One thing every square in Europe seems to have is that someone is either putting up scaffolding / stage / grandstand seats, or tearing them down. We headed through a small shopping arcade and found a small cafe for lunch and waffles.
After we had our fill of waffles and ice-cream we set off to find a lace museum. Yeah, I had no idea lace was a big thing in Bruges, but it turns out it is. We had a look around there for a while before heading to the gift shop, where I am informed everything was too expensive.
Next stop was one of the galleries that specialised in Flemish art from the area. It was quite small, but had a fair number of pieces. At this point our feet were starting to get tired. At least it hadn't been too hot. There was more chance of rain than anything else. Next we went to the Cathedral to see a sculpture by Michelangelo, one of the few outside of Italy. The locals seemed impressed with it, and I can't blame them. It didn't look like it was hewn from stone, but moulded.
We did some quick shopping in one of the hundreds of gift stores and stopped for coffee in a cafe, and sampled some Belgian chocolates. We asked for a cupcake, but it turns out all the ones on display around the shop were fake.
The train back to Brussels was very full. Even in 1st class there was heavy competition for seats, but we did get some.
I stuck my head out of the curtains in my hotel room that evening as the sun was setting to see a brilliant rainbow over Brussels.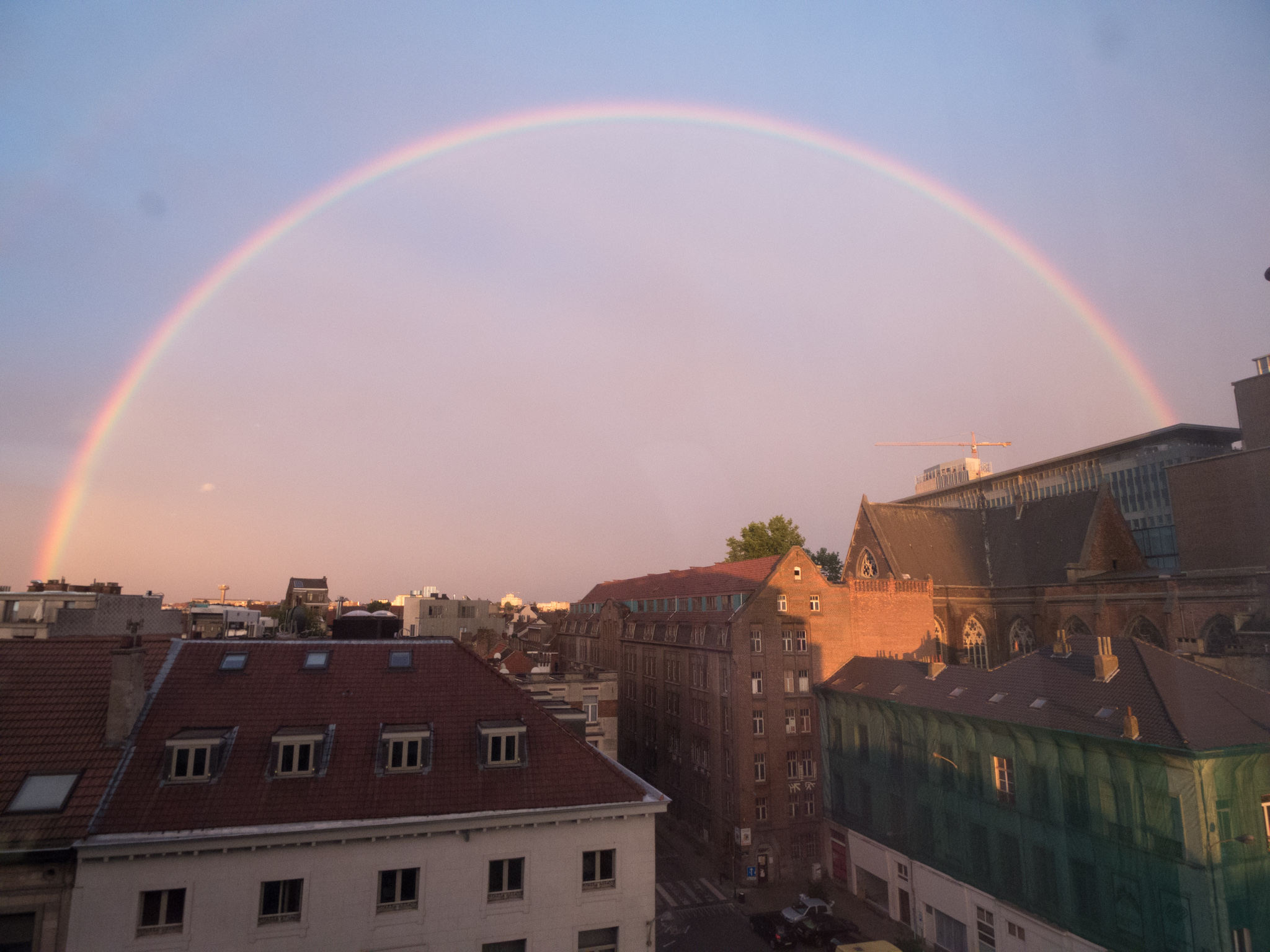 Bruges, Belgium